Integer research finds frugality and private labels on the rise
Canadian shoppers are cautious planners, but they still value the act of shopping.
The Integer Group, part of the TBWA Group, launched in Toronto less than a month ago, and to kick off the opening, managing director Marcus Evans presented key findings of a late August online study with over 1,200 Canadian shoppers at a forum last month. Evans delved a little deeper into the research with strategy, sharing the details of Canadians' recent shopping behaviour, and what this could mean for brands.
"The kind of feeling that is prevalent with Canadian shoppers now is caution," Evans says. "On the face of it, the Canadian economy is in good shape…however [the] number one consumer of [Canadian] exports south of the 49th is in trouble, and that's going to affect [us], and all the stories of gloom and doom are bound to impact how Canadians perceive their financial security."
With four out of 10 Canadian shoppers buying fewer or less expensive items in the three months preceding the survey, Evans says the primary shopper in Canada is a frugal one, and one to be heeded by marketers.
"What we are concerned about is that the behaviour borne out of a cautious shopper mindset can become habit if they are protracted for long enough," he says. "One of our messages to brands and retailers is, if you haven't changed your approach based on new behaviours and mindsets, do so, because if you don't going forward, they will become ingrained habits and that will be really hard to change."
That cautious mindset is influencing the brands Canadians buy, as the research revealed that compared to the same time last year, just over a quarter of respondents bought more private label than before, with 5% indicating they will continue to buy even more in the future. Only 7% of the audience didn't buy private label.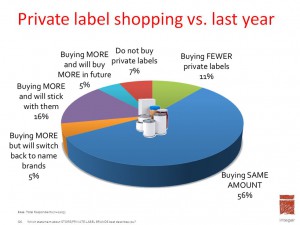 Citing the recently released PC black label, a private label Loblaw brand with premium quality yet affordable price, Evans says non-private label brands and manufacturers must adapt as private labels are improving in quality and range.

"They've got to make sure they're plussing up their messaging of quality and range, because generally the quality and range is better from a premium brand or certainly the perception is that."

"You've [also] got to start your dialogue…way before shoppers get into the store," he says. "You can no longer just do things at the shelf."

In spite of the caution, shopping is still important to Canadians. A theoretical question asked people to imagine a shopping service where someone else would buy, and deliver free-of-charge, everything they wanted on their list. Over half said they wouldn't use such as service. "It surprised me until we dug into the research," Evans says. Some of the reasons for not wanting such a service is people wanting to choose the quality of the product and not trusting an intermediary to choose the best deals in store.

And regarding the shopping list, just over 50% of Canadians use one – that's compared to 43% in the US for the same study done there – a stat that supports additional results that show Canadians like to plan before they shop. But one surprising finding, Evans says, is 18% "always" include their preferred brand on their list. Meanwhile 41% include their preferred brand "occasionally" or "for certain items." As Evans says, there's a great opportunity to get on the shopping list if brands talk to shoppers at the right time, before they go shopping.

So what are key influences when putting the shopping list together?

Not surprisingly, 71% said the brands they currently use make their list. But the next top influences have nothing to do with anything that happens in-store, Evans says, including coupons from manufacturers or stores, shopper discount cards, recipes, recommendations from family or friends and information from an internet search – again underscoring the need for brands to talk to shoppers before they leave home.

But lists are a double-edged sword in a way, says Evans, as people who use them tend to shop only from the list when in-store, meaning they spend less time in the store and less time on impulse purchases.

"It's what we call sleep shopping," says Evans. "For a brand that isn't on the list, it isn't so good."