AToMiC: Teletoon starts a vampire-human street fight
A 3D game lets players choose how the My Babysitter's a Vampire series will end.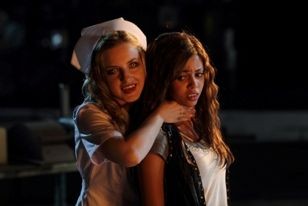 Teletoon has given kids a game they can really sink their teeth into.
Targeting kids aged nine to 12, Humans vs. Vampires, Canada's first stereoscopic 3D interactive project to market a TV show, is an action-packed Street Fighter-style romp promoting the network's upcoming series My Babysitter's a Vampire (based on a movie by Bruce McDonald, who is also directing some episodes).
On top of potential glory, it also gives players the chance to determine how the series ends.
Developed in collaboration with Toronto-based interactive prodco The Secret Location, the game uses 3D stereoscopic tech, pitting the show's human characters against their blood-sucking counterparts, with players choosing which character to be. The game can also be played in 2D.
Over time each side will accumulate points and upon the show's Apr. 19th finale, the one with the most points will determine which of two filmed episodes will go to air. Kids can also send invite codes to their friends by IM, text, or email to play live remotely.
The goal, says James Milward, founder/executive producer, The Secret Location, was to introduce viewers to the show's characters in advance so they'd already be engaged when it premieres.
Since its soft launch in October, the game's been promoted on-air on Teletoon and through Secret Location street teams handing out 3D glasses in Canadian cities.
At press time Mybabysittersavampire.com, which houses the game, had amassed 1,539,388 page views, with 941,896 total points scored. The humans are currently on top with 574,711 points.
The show premieres Jan. 3 and is currently airing in the US on Disney XD.
What is AToMiC? AToMiC stories are about cutting-edge advertising, technology, media and content creation.  The AtoMiC conference and award show is hosted by Playback and strategy magazine.