The word on Wind's manifesto
Matt Cammaert and Doug Hawe weigh in on the mobile co's new customer-powered push.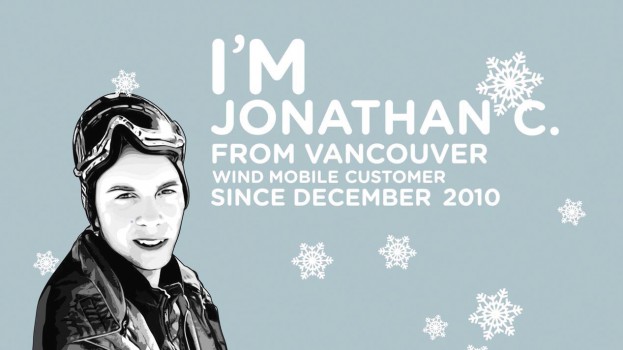 Wind Mobile recently unveiled a platform and manifesto from new AOR MacLaren McCann. The effort aims to bring Wind back to its core customer-powered DNA – hence the tagline "That's the power of Wind" – and help it move into the second phase of its evolution. Seeing itself as a challenger brand no longer, Wind is positioning itself to play on the same stage as the big three Canadian telecom companies, says Denise Wong, VP/GM, MacLaren McCann.
The effort includes print, radio, TV, online, billboard, cinema and in-store advertising with a manifesto pledging to listen to "what works for Canada's wireless customers and even more carefully to what doesn't." Testimonials sourced from Wind's customer service department and online community are being used to drive activations and sales.
We asked Matt Cammaert, president, Cheil Canada, and strategic consultant Doug Hawe, former director, consumer marketing communications and social media strategist at Microsoft Advertising, to weigh in on the new push.

Is this the right tack for Wind if it no longer sees itself as a challenger brand?
Hawe: This campaign still positions Wind as a challenger brand. If you are not the market leader, by default, you are a challenger brand. What I like about this is it differentiates Wind by acknowledging the consumer's points of frustration, but also offering up a product solution.
Cammaert: Separating themselves from the other challenger brands (Virgin, Public, etc.) and the big three flanker brands (Koodo, Fido, etc.) is sound. However, Canadians pay a premium for the big three; they take comfort in their size and dependability. If you want to gain share, you need to feel and act like the big players while still standing for something they don't, and of course have the network to support the "talk." The "Power of Wind" campaign feels much more grown up, yet it's not differentiating enough.

What could they have done differently?
Hawe: It is not clear to me the role social media played. I like the "by the people for the people" grassroots potential, but Wind does not come right out and say, "Hey, we asked you what you wanted, this is what you told us and these are now the offerings we can provide."
If Wind took those steps they could have given it more prominence. Then the consumer would see Wind is actually engaged in real two-way conversations, that it leverages social media to build relationships and that if you engage with Wind you can have a say in your future offerings.
Cammaert: Tactically, I think the use of testimonials in this category will be received by consumers as contrived. That said, an effective social strategy that utilizes the premise of testimonial could help the perceived legitimacy.

What should they do next?
Hawe: Embrace open genuine dialogue in social media, create new fans and build relationships based on honest timely communication.
Cammaert: The wireless category is begging for someone to stand out and truly represent something – a human element. While the new Wind campaign is attempting to get closer to this, they have a steep mountain to climb in order to resonate with the apathetic Canadian telco consumer.