Back Page: The new Creative Report Card points system
Get your calculators ready! There's a slew of new ways to earn points for next year.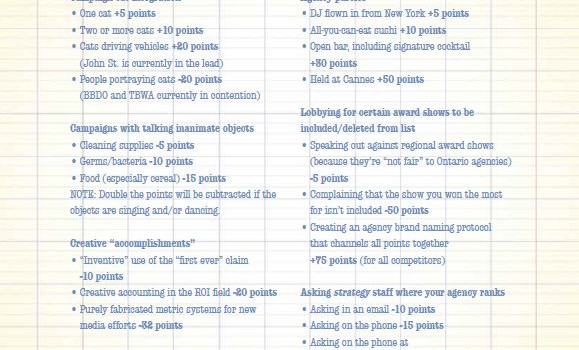 Strategy is instituting a new points system for next year's Creative Report Card based on industry feedback and our personal interests.* Please note the new ways you may be awarded points, as well as various ways agencies may earn demerit points:

Campaign cat integration:
•    One cat: +5 points
•    Two or more cats: +10 points
•    Cats driving vehicles: +20 points
(John St. is currently in the lead)
•    People portraying cats: -20 points
(BBDO and TBWA currently in contention)

Campaigns with talking inanimate objects:
•    Cleaning supplies: -5 points
•    Germs/bacteria: -10 points
•    Food (especially cereal): -15 points
NOTE: Double the points will be subtracted if the objects are singing and/or dancing.

Creative "accomplishments":
•    "Inventive" use of the "first ever" claim: -10 points
•    Creative accounting in the ROI field: -20 points
•    Purely fabricated metric systems for new media efforts: -32 points

Sending in your own points tally calculations:
•    By email: -5 points
•    In a PowerPoint presentation: -10 points
•    Authenticated by PricewaterhouseCoopers: +40 points

Agency parties:
•    DJ flown in from New York: +5 points
•    All-you-can-eat sushi: +10 points
•    Open bar, including signature cocktail: +30 points
•    Held at Cannes: +50 points

Lobbying for certain award shows to be included/deleted from list:
•    Speaking out against regional award shows (because they're "not fair" to Ontario agencies): -5 points
•    Complaining that the show you won the most for isn't included: -50 points
•    Creating an agency brand naming protocol that channels all points together: +75 points (for all competitors)

Asking strategy staff where your agency ranks before the list goes public:
•    Asking in an email: -10 points
•    Asking on the phone: -15 points
•    Asking on the phone at the beginning and end of a conversation, followed by an email: -1,000 points

*This list is fake† so please don't come to us with amendments to your points for next year based on it. We know a few of you will try.

†As of press time. Don't tempt us.