Four ways to fail at shopper marketing
Nielsen's Neil Weitzman says it's easy to fall flat if you don't keep some basics in mind.
By Neil Weitzman
Failing is easy in shopper marketing without a clear understanding of a consumer's path to purchase and how they make decisions. Perhaps you've already learned this the hard way. For everyone else, here are the top four ways your company can fail in shopper marketing:
1) Your organization has not been structured for ongoing success.
Every company is different and no one recipe will satisfy every taste, but there are core ingredients that can improve your chances for success:
Foundational insights: Your company should focus on its biggest opportunities, understand how to influence each point along the path to purchase and continue to learn about your shoppers.
Collaboration and activation: Proactively support retailers with their most difficult issues, and add category depth to a retailer's breadth on shoppers.
Result measurement: Clearly define your metrics for success and measure each initiative – both of these should be done from a manufacturer and retailer perspective.
These competencies should be the responsibility of the whole organization, but also the core focus of a dedicated shopper marketing and analytics team. This team should be made up of a diversity of talent and expertise, including those with marketing, sales and research/insight experience.
2) Your organization thinks shopper marketing is a fad not a trend.
If your CEO thinks shopper marketing is the next planking (google it), you'll struggle to convince senior management to put the proper resources and structure against it.  Fads do not fill a true need in the market the way trends do. Sales, on the other hand, is a real need and shopper marketing, combined with manufacturer/retailer collaboration, is quickly becoming the most effective way to drive sales.
If an enterprise-wide focus on shopper marketing continues to be a challenge, bring in unbiased partners to provide new perspective, case studies and opinions. There are many great organizations you can leverage to help build and sell internally as well as externally.
3) You aren't paying attention to in store-communication
Examine how the elements of creative have an impact on the effectiveness of your store and digital signage, packaging, or display. James Fraser, from Hunter Straker, has created "Fraser's Rule of 3, 4, 5" to help ensure that your in-store communication is effective:
Understand the message in less than 3 seconds.
See the message from 4 paces away.
Say it in less than 5 words.
If you can't read it, how can you expect your shopper to read it?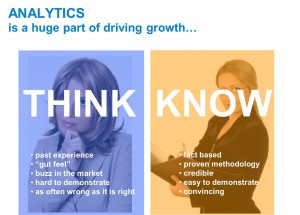 4) You think ROI is just checking if sales went up. Analytics is something those other guys do.

There are lots of theories and speculation on what works in shopper marketing and what doesn't. Some of it seems like common sense and some, without a doubt, is speculation. As shopper marketing and the in-store environment continue to evolve, the need to test, measure, and, at the end of it all, prove ROI, becomes more and more important.

Measuring short-term ROI answers the big question, "Did I make money?" but ongoing ROI measurement will justify shopper marketing as a long-term investment. Unfortunately, only 41% of respondents in a Nov. 11, 2011 survey in Shopper Marketing Magazine say they measure long-term ROI.

In a very successful example of using analytics to understand shoppers, Nielsen worked with a client to combine our data with Census Canada information to identify multicultural clusters across the country. The client's better understanding of the ethnic composition surrounding store locations allows for tailor-made product selections based on actual needs and wants of the community. For example, our client celebrated Chinese New Year only at a handful of stores in communities with large Chinese populations, fostering ties with the public.

In addition to ROI, ensure you are tracking metrics such as incremental trips, incremental shoppers, pre/post basket value and brand/category sales lift to determine success for manufacturer and retailer.

Losing money on a big initiative may be seen as a failure initially, but as long as you measure it, understand it, and learn from it, the lesson can become the cornerstone of your long-term success in shopper marketing. There is no point in the future where a better understanding of your shoppers' path to purchase and how they make decisions will become less relevant. Shopper marketing fills a real need and, if done right, can act as the key to driving sustainable growth for manufacturers and retailers.

Neil Weitzman is VP shopper marketing and strategy with Nielsen.