Coupon Quest turns deal hunting into sport
The new iPhone app hides coupons sourced online in its new game.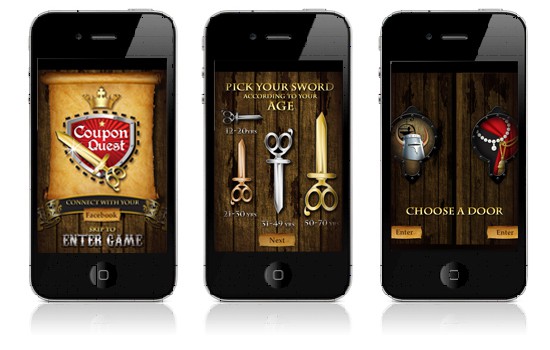 Toronto-based game developer Coupon Quest launched its new eponymous iOS gaming platform today, targeting a niche market of casual gamers and coupon hunters.

The game sources daily deals from online aggregator Yipit, which pulls in deals from sites like Groupon, LivingSocial and Tippr, says Ian Tuason, founder and CMO, Coupon Quest.

"With popular shows like TLC's Extreme Couponing, saving money and hunting for good coupons in the newspapers and blogs has become a game itself," he says. "[Plus] I'm addicted to casual videogames [so] I wanted to make the time more productive."

The game is a role-playing treasure hunt in a medival setting. As players collect coupons – which don't have to be redeemed – they receive points and can "level up" to knight or ranger status from rogue. As players receive points (and avoid dragons and other point-stealing evils) they can earn free stuff, such as Best Buy vouchers or free drinks at Starbucks, says Tuason, leveraging a partnership with Kiip.me, a platform which rewards mobile play.

The coupons inserted into the game are based on players' locations, and are limited to cities with daily deal websites. Cities and towns without some form of Groupon or WagJag are redirected to the closest city, which could make coupon redemption a challenge. However, Tuason says this is simply the first phase of the game, and that once the game has a strong player base, the team will begin approaching retailers and brands to work out partnerships.  He hopes to begin phase two in a few months.