Finding a little Harley-Davidson in everyone
The motorcycle brand has come out with Ontario-specific TV spots to change consumer perceptions of the brand.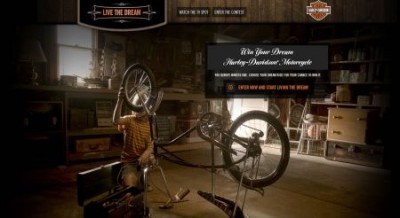 Deeley Harley-Davidson Canada, and its 17 Ontario Harley-Davidson retailers, recently launched an Ontario-specific campaign and promotion with the hopes of being able to knock down some of the misconceptions associated with the iconic motorcycle brand, says Lynn Ridley, VP creative, JAN Kelley Marketing (the agency that handled the creative and media plan) .

"The cult of the brand is quite big here," she says. "[But] they've done such a good job of [creating] it, that it almost works against them a bit."

Ridley explains that there is a flawed belief of Harley being an untouchable brand, with issues of "approachability and affordability" preventing consumers from visiting a retailer and making a purchase. So the brand decided to launch the "Live the Dream" promotion, in which Ontario residents are invited to visit the campaign website and enter a contest to win their dream Harley, to change perceptions and find "a little Harley in everyone."

The campaign aims to reach "competitive riders," skewing male and ranging from those in their mid-20s to mid-50s, says Ridley, adding that the media buy will be focused on the playoffs with TV spots airing online and on-air on Sportsnet, CBC, Shaw, CTV and TSN platforms.

The TV creative features retro scenes of a young boy souping up his bike, which he wishes was a Harley, and then shows him all grown up riding a hog, implying that Harley ownership is within reach.

The Ontario-specific TV focus is very new for the brand, she notes. "Typically, they would only go on TV for brand advertising, but they would usually just adapt the US spots and do their own original creative for the Quebec retailers as they feel that the market's a little bit different."

"But this is the Ontario retailers and they have a specific promotion they wanted to launch here. They felt that they wanted to reach a fairly wide audience and that TV would be a very strong medium to get a response for the promotion," she adds.