Drawing the line on sexual violence
A bilingual campaign by Public Inc. aims to spark debate over what is and isn't considered sexual violence.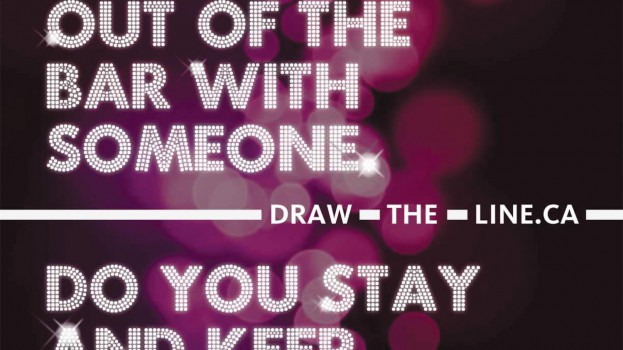 Would you buy an album from an artist accused of beating his girlfriend?
The question, clearly referring to singer Chris Brown (who was accused of beating his then-girlfriend Rihanna), was posed on one of several postcard-styled images that pop up on Draw-the-line.ca, part of a new bilingual campaign around sexual violence prevention that launches May 9. Other questions include "Your wasted friend stumbles out of the bar with someone. Do you stay and keep dancing?" and "A friend sends you a naked picture of a girl he knows. Is it a big deal to share it with others?"
The goal is to get the public to determine where they would draw the line on sexual violence, says Phillip Haid, co-founder and CEO of Public Inc., the agency behind the campaign. Created for Action ontarienne contre la violence faite aux femmes, a francophone group aimed at preventing sexual violence, the campaign targets the bystanders, putting the onus on them to do their part to prevent the violence, says Haid.
"Canadians really don't understand what sexual violence is," he says. "There is a huge continuum of what it looks like."
The campaign will largely live online with a strong PR push throughout May, which is sexual violence prevention month. Guerrilla stunts and street marketing throughout Ontario all drive back to the website.
The goal isn't to tell people what is right and wrong, Haid says, but rather to spark debate over what is and isn't considered sexual violence, help them recognize it and offer ways of addressing the issue.
"[Our question was] how do we help people not look away?" he says. "How do we help people know what it looks like and know how to respond?"