C2-MTL: Michael Eisner on keeping business creative, and creating can't-miss moments
Day three of the conference featured a talk by the former Disney CEO and revealed the results of the Sid Lee Boot Camp.
Google isn't just a business, it's also a university lab and a social movement aimed at keeping information open. And as such, is a good model for the communications industry to study.
Day three of the C2-MTL creativity conference kicked off with Google CFO Patrick Pichette talking about the company's famous culture, where they foster creativity with initiatives like 20% projects – any employee in any role can write a proposal for their own personal side-project and if it's approved, can spend 20% of their time working on that project. For example, Google has a fleet of buses and some of its engineers worked on ways to improve the buses' comfort and environmental impact. The ideas should have scope, however, if you want to change the world. "If you're not building a product for a billion people, you're wasting your time."
Next, Michael Eisner, former CEO of Disney, shared stories from his career, including his time at Paramount and ABC – a network he is credited with helping to revitalize.
Countering the notion that television is old-fashioned, Eisner noted that "television" has been around since people lived in caves – its just storytelling, no matter how the platform changes. And when it comes to choosing which stories to pursue, Eisner trusts his intuition and will pursue whatever sounds "fun and interesting."
He said that the problem with businesses today is that creative people scare them. Giving Guy Laliberte from Cirque du Soleil as an example, he noted that great companies are often started by creative people, and the smart ones will keep those creative people at the top. A smart CEO will walk away if they don't understand something or it "doesn't pass the smell test" – and this is how most creative people operate.
Eisner also spoke about the importance of having solid partnerships, which typically take three forms – a spouse or romantic partner, a sibling and a business partner. Those with strong partnerships tend to be happier and more successful, and should be a balance between the creative side and the operational side.
Reiterating a point that Ian Schrager made yesterday, if you make a great movie, but it's based on a terrible idea, it won't get far. A terrible movie based on a great idea might have some legs. And of course, a great idea executed well is the ultimate goal.
Look for new ideas in new places, Eisner said, like taking chances on young writers with good ideas, and always look for new ways to make your customers happy. If Kodak had cut its loses on film and went digital years ago, it might not have suffered that same fate.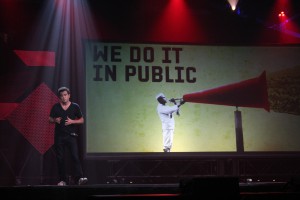 In the afternoon, Sakchin Bessette, founder and CD of Montreal-based Moment Factory, talked about the importance of physical interactions in a society that has become increasingly isolated. Chronic loneliness has almost doubled since the year 2000, he noted, and isolation deprives our minds of creativity. Since kids today are growing up as digital natives, more of an effort needs to be made to get out and actually do things. He then ran through some of the ways Moment Factory is facilitating physical gatherings and expanding minds, including their work with Montreal's Cultural District, Madonna's Super Bowl half time show, La Vitrine and the show at Parliament Hill in Ottawa.

It's all about creating the "you have to be there" moment, he said. "That's what we should be working towards."

Up next, the members of the Sid Lee Boot Camp presented their final idea to the client, (RED). Read more about the Boot Camp here, and watch the video below to see the product of 10 days of hard work.