Ads that earn their keep
Just in time for Cannes, strategy's executive editor Mary Maddever looks at world-class innovation and how marketing trends are changing the way businesses operate.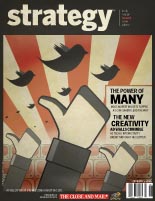 Each year, just in time for the Cannes Festival of Creativity (the ad world's Oscars), strategy rounds up the best ad and marketing ideas coming out of Canada – the insights and approaches that connected with consumers in different ways.
Since strategy's June issue goes to Cannes, reaching beyond our core Canadian marketing industry readership to a global audience of ad execs, we're looking for world-class innovation. This issue also reaches Globe and Mail readers, so we put an emphasis on how marketing trends are changing the way businesses operate.
As our cover suggests, marketing departments are rethinking traditional tactics to create more unique two-way relationships with consumers. More listening, less one-way ads. More entertainment that's nichely geared, and more solutions over slogans, such as apps, designed to help consumers in myriad ways.
Since tech is radically changing how companies get their message across in the new many-small-screen mediascape, the AToMiC feature looks at the innovation coming from Canada, while a panel of digital gurus tackle how to deploy the next tech trends to solve distracted-audience challenges – with mobile emerging as the superhero, often with a social media sidekick (or vice versa).
Mega retailer Walmart has just launched a Canadian social media foray as part of a mission to own the mom space and to connect in a way beyond price, while P&G also deployed a social push to forge more emotional ties with moms. And as the biggest price and product feature-driven brands are jumping into social media in their quest to befriend shoppers, they're building more conversational relationships.
This approach is explored in The New Brand Relationship (p. 12), which looks at how consumers are becoming more involved in the communication process as well as in brand decisions. The organizational shift required to make this work is seen in the content strategy from newly launched Sid Lee PR, which helped build Georges St-Pierre's hugely successful social following, among others.
This issue also contains a round-up of Canadian Lions-worthy work across the ad categories that will be showcased at the Creativity fest in Cannes this month (p. 36). The most sought-after is the Titanium category, which is for break-through ideas that show the way forward.
One entry from Canada that is Titanium calibre is Cundari's Pain Squad app. Designed for Sick Kids hospital to get young cancer patients to keep a pain diary, it uses gamification to motivate kids and features the stars of two hit TV shows who reward kids at different levels.
Brands and agencies now need to take the Pain Squad approach to the full gamut of consumer experience, and do things differently. As How to Win International Biz shows, the creativity of Canada's ad sector is bringing in global clients. To grow that trend, Canada needs to stand out on the world stage, and that takes more Titanium contenders – ideas that break through with real solutions, and that make you 'Like' brands.
Cheers, mm
Maddever, exec editor, strategy, Media in Canada and stimulant
P.S. Follow us at #strategyatcannes