Winning in-store communication: the proof is in the purchase
Ipsos's Catherine Yuile shares research results that decode why visuals work, and sheds light on how to capitalizing on Canadians' brand loyalty.
By Catherine Yuile
Consumers today have unlimited information at their fingertips and thousands of brands and new product features to choose from. While this means they can be more educated shoppers, it also makes their lives even more busy and complex – with a lot more choices to make.
And while there is no doubt that brand interactions along the shopper journey can help create awareness, interest and even demand, the sad truth is that most shoppers are not committed to purchasing your brand  before they enter the store. More than ever, shoppers are deciding what to buy at the point of purchase: 76% to be precise, according to our newly released study. That represents a lot of opportunity for your brand, but also for your competition.
We tested 30 pieces of CPG in-store creative amongst 3,000 English Canadians to understand what creative elements effectively stop and close shoppers. And while we do not want to conclude a rigid set of rules, here are three of our top 10 learnings that seem to consistently drive success at the shelf.
Grocery store shoppers are the hardest to engage. We know that the majority of visits to grocery stores are quick trips with list in hand. Yet the average number of SKUs in one store can range from 30,000 to 50,000. Navigating a cluttered environment while on a mission means shoppers often have their blinders on as they are focused on getting in and out quickly (this is particularly true for men).
Indeed, our study confirms that grocery shoppers are significantly less likely than superstore or pharmacy shoppers to notice or remember in-store marketing materials, or say that in-store marketing increased their interest enough to inspire a purchase.
This leads us to our second finding, which is that creative is still king. Our respondents told us that it is the look and feel of the POP communication that primarily motivates them to stop and look. But what drives visual appeal? In-store creative needs to be interesting as well as unique from the category/environment. And the more imaginative, the better. From a design perspective, use vibrant colours, interesting and unique imagery, and clear product visuals.
Going a little deeper, Canadians are drawn to upbeat and positive tonality in advertising and this is reflected in-store. In our study, respondents were drawn to creative that had a singular focus of bright colour, such as orange, red or purple. Muted colours, grey images and busy visuals did not attract shoppers' attention. Black can work well as an unexpected high-contrast background to a more vibrant colour.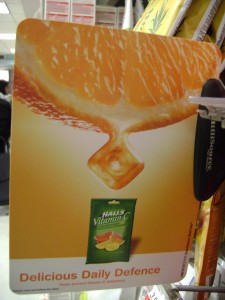 The most successful creative combines colours and visuals to work together to enhance the product benefit. For example, a shelf-flag for Halls Vitamin C Drops showcases a bright and juicy (a.k.a. tasty) orange wedge dropping orange liquid into a lozenge. Colour shading is used to create a halo effect around the lozenge. The downward motion of the visuals draws shoppers' eyes down to the brand/product that is shown directly below the lozenge along with a strong tagline "Delicious Daily Defence."

But once you grab their attention, we also found Canadian shoppers are amongst the most skeptical in North America. This means they are more resistant to trying new brands and believing new product claims as they don't want to spend their money on a risk. While the majority of shoppers don't go into a store with a brand in mind, they often walk out with the tried and true product. In fact, Canadians are more brand loyal than American shoppers; even during recessionary times, Canadians say they are less likely to switch to lower-priced brands. Brands can capitalize on this loyalty by having their in-store communication focus on trading loyal users up and cross-selling to other (non-competing) brands within their portfolio.

Canadians are also least impacted by the bells and whistles; more doesn't necessarily equal better. Don't just give shoppers a laundry list of benefits because superiority claims on their own fail to impress. Instead, Canadians crave rational and relevant benefits – they want reassurance of how the product really works and guaranteed results. Free trials, coupons, money-back guarantees and special promotions work well to entice trial amongst skeptical shoppers.

Today more shoppers are relying on in-store marketing and branding cues, particularly for CPGs. And if the majority of shoppers remain undecided as they walk into their local grocer, you need to make sure that your POP marketing efforts are going to stop and close them so that they put your brand in their basket. The proof is in the purchase.

Catherine Yuile is SVP at Ipsos ASI. Reach her at Catherine.Yuile@ipsos.com or on Twitter @cyuile.