CASSIES accepting entries for 2013 awards
The awards, which are based on business effectiveness, will be handed out Jan. 28, 2013 in Toronto.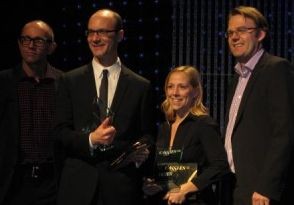 Entries are now open for the 2013 edition of the CASSIES Awards, which are based on business effectiveness and judged on a set of published cases.

Any paid communications campaign that proves solid business outcomes, via tracking, data and research results is eligible to enter until the deadline of Aug. 2, 2012, according to a release from the Institute of Communication Agencies (ICA) which presents the show along with the Association des agences de Publicité du Québec (AAPQ) and Association des professionnels de la communication et du marketing (APCM).

This year, the chair of judging is Nancy Marcus, corporate VP at Kruger Products. The rest of the judging panel is as follows:
•       Andrew Barrett, vice president of marketing, Samsung
•       Fiona Stevenson, category brand manager, P&G
•       Myrianne Collin, senior vice president of strategy and marketing and consumer services, Vidéotron
•       Sylvain Marcoux, director of customer experience and marketing, Intact Insurance
•       Marie Andrée Bertrand, associate partner & Chief Operating Officer, SVY&R
•       Pascal De Decker, vice president and creative director, PALM + HAVAS
•       Melanie Johnston, senior vice president and managing director, DDB Canada
•       Alvin Wasserman, president, Wasserman + Partners
•       Karine Courtemanche, president, Touche!PHD
•       Emily Bain, partner and strategic planning director, John St.
•       Shane Skillen, president and founder, HotSpex
•       Scott Goodson, founder and CEO, StrawberryFrog – NYC

For more information on the awards, including categories and eligibility details, visit Cassies.ca.

Photo: 2012 CASSIES Award winners for James Ready's campaign with media by Starcom MediaVest Group and creative by Leo Burnett.