CTV stretches scope of Saving Hope
To promote its new Canadian series Saving Hope, CTV has launched its most transmedia campaign to date.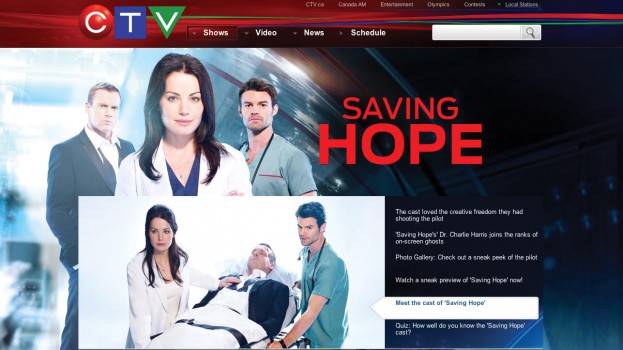 To promote its new Canadian series Saving Hope, CTV dove deep into the rabbit hole of transmedia to create its most robust online experience to date, says Jon Taylor, senior director of content, Bell Media Digital. The series, commissioned by CTV and NBC and produced by Entertainment One, makers of popular series Rookie Blue, takes place in the fictional Toronto hospital Hope Zion, where the chief of surgery (Michael Shanks) falls into a coma after a car accident and begins to wander the halls as a spirit.

The transmedia experience – planned out from the beginning of the series by the show's writers in conjunction with Bell Media's internal agency – will include an @SavingHopeZ Twitter feed, run by an anonymous hospital staff member (created as the character's personal feed, it hints at future plot lines and hospital gossip), a music blog with interviews with artists featured on the show's soundtrack and an original web series featuring a B-character, the local hospital shrink, Gavin.

The show, Taylor says, will be self-referential to its transmedia properties. For example, the web series, "Ask Gavin," takes place in a closet on set, which will likely intersect with the main plot lines as characters try to get into the locked room. He says they also plan to work the @SavingHopeZ Twitter account into the series as well, with characters making reference to this mysterious omnipresent social media town crier.

The purpose of the transmedia push is to build up live TV audiences by increasing between-show engagement with fans. The traffic for the show's microsite is expected to come through social media referrals or via the CTV app on mobile. As such, Bell has developed a strong social media plan to distribute original digital content and tease plotline through various mediums beyond @SavingHopeZ, such as @SavingHope, which is a purely promotional show Twitter account, as well as a YouTube channel, Facebook, Tumblr and Pinterest. The show itself will be live-tweeted by writers and cast members, with live discussions also taking place on the CTV app.

While the series target audience skews slightly female and ranges in ages from 25 to 54, site visitors (considered superfans) are expected to be a slightly younger audience in their 30s.

"We get the ability to be a little bit more youthful and stretch the limits of where the show would have gone, because we're no longer just catering to that mass audience," Taylor says.