Editorial: Net(re)working
Executive editor Mary Maddever on the new opportunities for engaging audiences, and how the media industry needs to change to reflect them.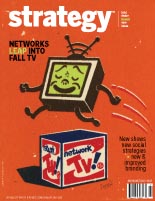 Sometimes industry leads consumers down new behaviour trails, like smartphones that turn social media into a mobile hub and make everyone photography junkies.

Sometimes consumers lead the industry down new paths. And when they don't get out ahead of it – like the music biz – they get left behind. TV is at that crossroads.

The new digitally-native generation love TV. They hate-watch (Jersey Shore), they consume whole seasons in a single bound (Project Runway), and they appointment view a few choice shows (The Walking Dead), often applying their own social TV layer, sometimes via Skype or pithy texts.

Networks by and large haven't played the industry-leading role they need to in this space, to make the shift from broadcast destination to multi-platform content curation. Network online players have a few episodes, while the torrent sites have whole seasons. I know, rights issues need sorting, but the audience isn't waiting.

Stats from a recent Delvinia survey fielded for strategy found that a third of youth say illegitimate streaming sites are the content source of choice. A significant proportion of all Canadians said they don't expect to be watching terrestrial TV a year from now, they expect to consume more content via digital channels.

In the midst of all this, AMC, which until a few years ago had no original content, became a beacon for live viewing with a few ballsy water-cooler choices. From Mad Men to its Walking Dead zombies, it established a unique, edgy destination.

It's that kind of branding that Blue Ant CEO Michael MacMillan says is needed. In his provocative Prime Time conference keynote earlier this year in Ottawa, he said that for networks now, talent will become the new security, not bandwidth. He also told broadcasters they couldn't rely on simulcasting hits anymore – they need to develop niche content and be tech agnostic.

In this issue, the viewership shifts can be seen in the infographic which shows both ends of the demo spectrum watching less live TV. Ironically, ad avoidance is not the goal, convenience and choice are. We want exactly what we want. Now. Doubly ironic, the networks' first line of defence, the video players, have not been adequately embraced by advertisers. This leaves nets scrambling around in transmedia-land trying to push viewers to the live broadcast space, where advertisers value eyeballs.

That needs to change. The opportunities for engaging the online audience could be better reflected in the programs brands run in this space. Viewers want to do more than view passively, they want rewards, they even want to shop, so the content and engagement role brands are pursuing everywhere has an outlet ripe for involvement.

Brands are already hedging their bets on alternative platforms like Viddy, and YouTube before it. While networks have the longer standing content expertise, resources and relationships, to press their advantage, broadcasters and advertisers need to be open to a more circuitous TV audience path.

You can smell a big sea change. The good news is, we're watching. Siri, find me Project Runway.