The Share the Road Cycling Coalition unites commuters
The organization has launched a campaign inviting road users to see each other's human side.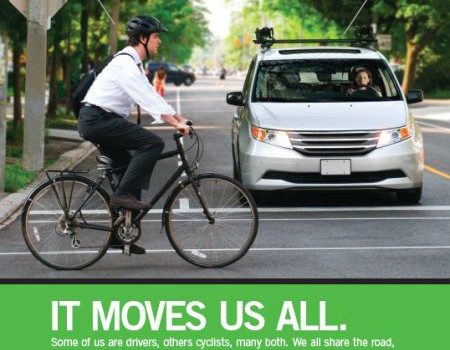 The Share the Road Cycling Coalition has rolled out a campaign tackling the traditional antagonism between drivers and cyclists, around the insight that most people are both.

The public service campaign, with creative and media by Top Drawer Creative, urges road users to unite in combating issues of congestion and road safety. The campaign launched July 18 and will run until Aug. 16, and will include 30-second TV spots, out-of-home posters, print, radio and online ads placed throughout Ontario, says Howard Chang, CEO, Top Drawer Creative.

TV spots from the campaign will air on CBC, Global, CHCH and Sportsnet. The advocacy organization will also roll out approximately 500 digital boards playing the actual 30-second TV commercial in subway stations, as well as static posters in transit shelters and restobars across the GTA, he says.

"The goal [of the spot] is to start constructive dialogue between road users where we see each other as human beings, and we want to avoid the conflict and confrontation that's happened in the past between cyclists and car drivers," says Chang of the creative, which emphasizes that the people we share the road with are our next-door neighbours rather than nameless people behind the wheel.

Online banner ads will be placed on sites represented by Olive Media, as well as on Kijiji.ca, and 28 radio spots per week will air on Corus Media-owned stations in major centres such as London, Windsor, Toronto, Peterborough, Guelph and Barrie, but hitting smaller communities as well, he adds.

The City of Toronto has run previous initiatives around the issue of sharing the road, but this is the first time a comprehensive campaign of this scale has run for six weeks throughout the summer months in Ontario, he says, adding that the total media value of the campaign is over $600,000, but is 100% donated media.

The campaign also brings in a wider than usual range of stakeholders, who spoke on the campaign's launch date, including the Toronto Cyclists Union, the Ministry of Transportation, and even the Canadian Automobile Association (CAA), because "you can't just talk to cyclists about cycling safety, we've got to bring everybody to the table to talk about this," Chang says.

The cycling advocacy organization is targeting all road users including recreational and commuter cyclists, drivers, and professionals such as cab and truck drivers.