Pitching the downtown life
Condo marketing gets uber-creative with cooking classes, design workshops, massages and more.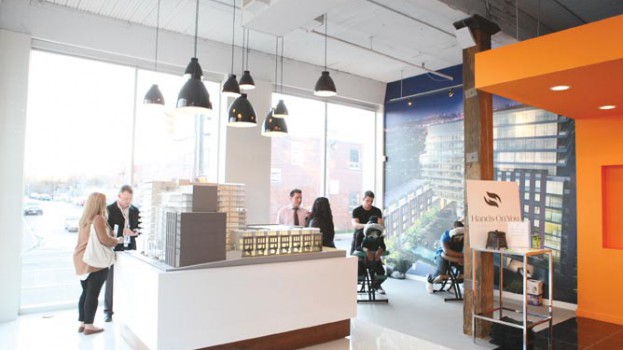 M5V Realty is trying a new way of selling real estate, says broker Sherard McQueen. In September, it'll partner with the Toronto Blue Jays to host a city-wide scavenger hunt, and is inviting anyone – buyers or not – to participate and visit parts of Toronto they might not have seen before.
This is part of its strategy to promote the downtown condo lifestyle – rather than just the property itself.

The brokerage – named for its core area of sale and one of Toronto's busiest postal codes in terms of condo development – began hosting condos and cocktail parties a few years ago to great success. The events, which invite local businesses to participate, offer an opportunity for potential buyers to experience the city's lifestyle, McQueen says, and also gives M5V agents a chance to interact with consumers in a disarming way. It's since hosted dinners with local restaurants catering, design workshops with local furniture stores, and offered free massages for stressed out condo buyers.

"We get to know people on a level outside of real estate," he says. "If they decide to move forward and purchase, that's great. But if not, then they've gotten to know us on a more personal level [and] gotten to know some of the intricacies of the city."

His agents range between 22- and 37-years-old and are a reflection of the core demographic of urban condo hunters, he says. To get the word out, M5V relies on PR, social media, event listings and email marketing.

"The results have been tremendous, at our last event we had 157 people and sold 31 condos," McQueen says, which works out to a 20% conversion. "In a down market, even if people aren't really buying, [they] are still interested. They want to know what's going on."

Renée Bourgon, director, marketing, Minto Properties, has been an advocate of the trend of selling a lifestyle. "[By] marketing around people's values and needs and aligning what your service or product is around that, it's easier to make a connection," she says.

Bourgon says developers and realtors have been evolving their message to consumers over the past few years, pointing to events as far back as 2007, when she partnered with restaurants to offer cooking classes in model homes and other fashion and lifestyle tie-ins with local businesses that were then novel. It's not just about targeting potential home buyers, she says, but rather these events reach entire communities, allowing realtors and developers an opportunity to connect with key influencers, as well as local businesses and potential buyers, to help get the word out.