B!G Silver: MacLaren McCann finds a social intern for MasterCard
The agency wins second place for creating a new recruiting method for the credit card co.
The challenge
MasterCard Canada was looking to hire four digital-savvy interns to work in the marketing and product solutions group at its Toronto headquarters during summer 2011. While most companies interested in recruiting interns post a job description on their corporate career pages, employment boards or at campus career centres, MasterCard opted to break the mould to attract the best candidates.
The insight
Employment opportunities on corporate career websites don't attract a lot of attention. On average, MasterCard receives about 30 resumes once a job has been posted. But an application process that spanned Facebook, Twitter and LinkedIn, could get the internship noticed by the target demo – digital natives.
The B!G idea
By making the campaign itself a challenging process, it would help find the best candidates.
The agency created the "Social Interview," an elaborate online exercise that used social media to pre-screen candidates and find the best and brightest interns.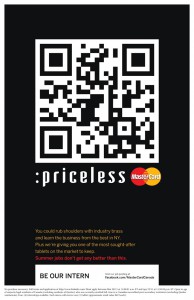 On-campus, posters featured QR codes and shortened URLs so that smartphone-equipped students could access info about the program. This took them to a Facebook fan page where a "like" unpacked the info they needed on how to apply. Students then had to go to LinkedIn to upload a resume, cover letter and a link to something creative that further demonstrated their digital know-how. Applicants would have to follow MasterCard on Twitter to find out if they landed an interview.

Students that successfully completed the application process had demonstrated their understanding of the digital landscape. The best applicants were invited to meet the selection team in a one-day workshop and face-to-face panel interview.

The impact

While MasterCard aimed to receive more than 30 applications for the internship, the Social Interview garnered 532 qualified candidates. On the social media front, Facebook fans grew by 400% in just four weeks – establishing a connection with a youth audience and a channel for future engagement – and 46% of MasterCard's Twitter conversations were about the intern program. MasterCard hired an extra intern because of the quality of the candidates and the Social Interview process is now part of the company's global recruitment effort.

Jump to:

Gold: Sid Lee Architecture and Red Bull Amsterdam