Best pre-brand of the year: Target
The soon-to-launch retailer caused major buzz this year without a mass campaign in sight.
Despite having no physical locations or paid mass advertising, Target is one of the most buzzed-about brands of the year in the Canadian landscape. The Minnesota-based discount retailer made waves when it announced in January 2011 that it would take over 189 Zellers locations. All eyes in the retail industry have been glued to Target's arrival, with countless media articles written about it, reports dedicated to the impact on the Canadian retail landscape, and less than a month after launching its Facebook page, it gained more than 150,000 fans (for comparison, Sears, which joined Facebook in 2009, has 250,000 followers, while Walmart, which launched its Facebook page in spring of this year, has more than 350,000 followers.)
Target is the most anticipated retail arrival since Walmart's 1994 entrance, says Ed Strapagiel, EVP, Kubas, a marketing consulting firm that studies the retail landscape each year. More than 60% of Canadians are excited or somewhat excited for Target's entrance, 10% more than for when Walmart launched, he says. This number is higher among those who've already shopped at the store. He points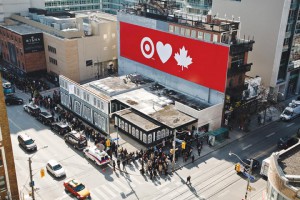 to its big PR push over the past two years as the driver behind much of the early buzz.

While its mass media kick-off by MDC Partners won't begin until 2013, to date, Target has focused on a very event-heavy promo lineup, with PR by Toronto's Veritas, such as sponsored beach days in five Canadian cities featuring free rides, food and goodies, sponsorship of Montreal's Fashion week, a branded hotel takeover for TIFF, as well as a February pop-up store in downtown Toronto featuring Manhattan designer Jason Wu, which attracted more than 1,500 shoppers in a day.