AOY & DAOY Bronze: Taxi techs up its ride
Taxi celebrates 20 years by nabbing Bronze in the Digital Agency and Agency of the Year categories.
Taxi's teenage years certainly weren't awkward. As the agency turns the big 2-0 in 2012, it looks back on an award-filled decade: in 11 of the past 13 years, Taxi finished in the top three of Agency of the Year, for a haul of five Golds, two Silvers and four Bronzes. Last year, the agency debuted in the inaugural DAOY awards with an honourable mention. Now it celebrates 20 years by nabbing Bronze in both competitions.
It shouldn't come as a surprise that the agency is taking digital agency kudos. A core belief in integrating different disciplines in the advertising world guided Taxi's founders two decades ago. And the roots of this year's digital Bronze can be traced back to 2001, when current chief creative officer Steve Mykolyn joined the agency and began building out its digital offerings. "We've always had an integrated approach," says Mykolyn. "The agency started by combining advertising and design disciplines under the same roof, which in 1992 was radical."
This year was another good one for Taxi on the awards circuit, including a Bronze Film Lion at Cannes for its Hockey Hall of Fame campaign. There were downers too: Taxi 2 lost its 10-year-old BMW Mini account, work which over the years scooped up international awards and attention. When asked about losing Mini, Mykolyn deadpans that it's an opportunity for another car company to give the agency its business.
In terms of highs, Mykolyn notes personal satisfaction over work the company did on the recently launched Canadian Tire rebrand for its 90th anniversary. That campaign sees the retailer doubling down on its Canadian roots, playing up a sense of nostalgia in television spots ahead of competition from U.S. retailer Target.
Over the past year, Taxi's practice of involving its digital experts in the creative process drove both engagement and effectiveness. "Everybody is working on the client solution at once, rather than in a sequential format," says Rob Guenette, CEO, Taxi. "It's faster, it's richer, and it ends up being a much more holistic approach."
An example is Taxi's work for Boston Pizza, which included a redesign of the restaurant chain's website. The work pocketed a Gold at this year's Effie Awards in New York and Silver at the 2012 CASSIES. Because Taxi integrated traditional web design into the wider campaign, the effect was amplified.
"It became an extension of the web build on television and in a direct mail piece where we created the book, 'The Joy of Finger Cooking,'" Mykolyn says. "We couldn't have done that in isolation. If we were agency of record just for advertising and didn't do the website, it probably wouldn't have happened seamlessly."
While Taxi has always operated based on a philosophy of small teams of experts driving every piece of business (the same number that can fit into a cab), as the advertising landscape shifts, so do the people in the taxis.
Taxi's group director of creative technologies, Ben Feist, says being able to pull off the "complete offer" on campaigns entails tech experts that can play well with others. "We hire people more consultative in nature. They like to walk around and talk about what they're doing," he says. "It makes them more compatible with the typical writer or art director or creative approach to advertising."
Guenette says the traditional line between disciplines has blurred at Taxi, as people trained in sought-after technical skills work more closely with copywriters and art directors than ever before. "I hate to even call them technical people," he says. "They're just a different kind of a creative."
Now that brands want to combine utility with an interesting story that can be told digitally, agencies are under pressure to produce ideas that transcend traditional mediums. For instance, Feist says the agency is exploring live online events, since they tick many of the boxes successful campaigns require. Most importantly, they allow brands to connect their web audiences or social media followings to a real-world retail experience.
Taxi experimented on this front over the past year, running two live events for Telus, including a Facebook event called the Big Picture that ran over two days in June. In a form of virtual Pictionary, contestants logged onto the social media service to watch a trio of artists sketch pictures on the newly introduced Samsung Galaxy Note. Feist says the idea sprung from wanting to engage Telus customers in a meaningful yet short-term way that didn't sound like an online corporate sweepstakes.
Mykolyn sees the work of advertising agencies becoming more difficult as the tools brands use to communicate multiply. He says Taxi will seek out employees with varying skill sets, whether it's technical, design or others. "No matter how many channels or silos there are, what hasn't changed is the fundamental need to solve a problem," he says. "That's where our philosophy of four people in a cab still resonates."
Read on to see which campaigns helped Taxi win Bronze in Digital Agency and Agency of the Year.
Hockey Hall of Fame shows how dreams die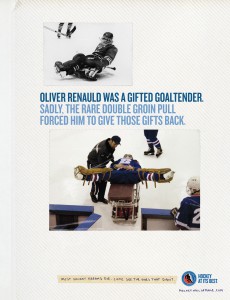 While the Hockey Hall of Fame (HHOF) continues to be a popular destination for tourists, visitors from the GTA have been in gradual decline, possibly due to the "been there, done that" mentality. Taxi needed to get HHOF back on the radar and reconnect with hockey-loving Torontonians.
The agency thought about how almost every Canadian kid who has ever picked up a hockey stick thinks he'll be playing in the NHL. Inevitably, for most, there comes a point when they realize that this just isn't going to happen. An elite few, however, do manage to make it to the NHL, and a smaller number still are inducted into the Hockey Hall of Fame. To emphasize this point, Taxi highlighted the achievement by showing just a few of the many ways the dreams of others can die.
This led to the creation of various characters, and their hockey career stories were told from beginning to end. There was Robbie, who just couldn't shoot the puck, and Jimmie, who left the game for Marcie "Boom Boom" MacLean.
The "Most Hockey Dreams Die" campaign appeared on TV, print, radio and digital. There were four 30-second TV spots and 15-second radio spots that dramatized dreams being killed by everything from a groin pull to small legs. TV resulted in over 21 million media impressions, and social and mainstream media picked up on the campaign, earning tweets from top hockey commentators and even a spot as Sports Illustrated's sports video of the day.
McCain's 15 Seconds of fame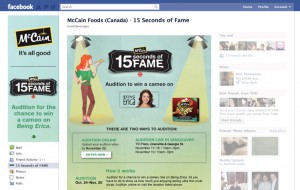 Last year, McCain launched a new frozen pizza aimed at a new audience. While McCain's other pizzas are geared towards moms, the new Ultra Thin Crust pizza was aimed at a younger, more urban and connected demo.
Taxi's challenge was to get them to actually try Ultra Thin Crust pizza. This was a battle about taste, so Taxi launched a mass sampling program to get 25,000 urban Canadian women, aged 25 to 35, to taste the pizza and decide for themselves. While sampling is typically an extension of an advertising campaign, Taxi made it the focus and created "15 Seconds of Fame."
The sampling event was actually a contest, in the form of a casting call for the target to win a cameo role on the TV show Being Erica. The role she would play in the show would be the "girl eating a pizza" in the background of the scene, and tasting the McCain Ultra Thin Crust pizza was the audition.
As a result of the campaign, 29,000 pizza slices were sampled, over 1,000 video entries were received, over 20,000 people voted, 11,000 new Facebook fans were made and upwards of 2.3 million PR impressions were achieved.
Telus shows the big picture
With the launch of the Samsung Galaxy Note smartphone, Taxi was asked to come up with something big that would help differentiate the brand from competitors.
The agency developed an interactive experience that would show off what the phone could do by taking a fresh approach to product demos – a special online event called "The Big Picture."
Three noteworthy Canadian illustrators were given a Samsung Galaxy Note and asked to create a series of six drawings on the smartphones while being broadcast live on Telusbigpicture.com. Fans guessed what was being drawn and the first person to do so correctly won a Samsung Galaxy Note.
Taxi invited people across Canada to join in online with email blasts and specially targeted Facebook ads. These were supported by a series of social media teaser posts leading up to the launch date. The live online event generated 811,747 total impressions and 27,440 unique visitors over two days.
Boston Pizza spreads the joy of finger cooking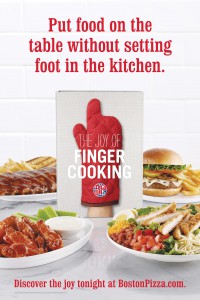 Two years ago, Boston Pizza became the first casual dining restaurant to offer takeout and delivery, and it focused on a male target – dads and dudes. Taxi developed "Finger Cooking," with its only requirements being a finger and a computer. With these two tools, dad can go online and have dinner taken care of in minutes.
The agency published "The Joy of Finger Cooking," a cookbook that showed men how to "cook" the Boston Pizza menu. It consisted of a national direct drop of two million cookbooks. TV included 30- and 15-second spots, while standard banners, along with pre-roll, kicked off four weeks of digital activity. The overall campaign recorded 59% growth versus an original goal of 10%, and for the first time ever, online orders surpassed those via telephone.
Taxi also revamped Bostonpizza.com. The online menu was completely redesigned and new food photography helped increase food-quality perceptions. The agency used users' locations to automatically find the nearest Boston Pizza to them, making the site much more efficient. The user experience was made to be intuitive, requiring the fewest clicks possible.
To support the site's relaunch, a new campaign was developed, led by direct mail and supported with television, print, online banners and social media posts, all driving to the newly designed website.
Online ordering saw double-digit growth throughout the promotional period, and it peaked in the third week of the program, with an increase of over 80% versus a year ago.
Telus tackles TV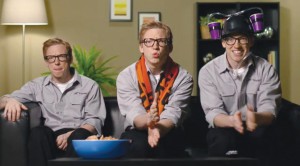 For 100 years, Telus was known as "the phone company." So Taxi faced a tough challenge with the launch of Optik TV, namely getting customers to understand the improvement the new service represented. This led to the insight that drove the entire campaign: "Seeing is believing."
The creative solution came in the form of the character Danny, the installer. He demonstrated that seeing is believing through a series of house calls to customers, turning the installation challenge into a positive asset. TV was the core of the creative. Danny visited many homes, including Leonard Nimoy's, to bring the Optik service to people in search of something better. His presence was extended across media platforms, including social media and online videos, where he tested the latest features of Optik TV.
Last year, Telus added 200,000 new TV customers. In the first quarter of this year, the customer base increased 54% versus a year ago.
Kraft Dinner starts a battle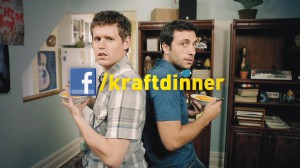 Kraft Dinner's consumers were categorized in the online space as "buyers" (moms) and "eaters" (younger tech-savvy consumers). KD's presence in traditional mediums catered to moms, but while younger consumers were talking about KD online, they weren't being engaged or rewarded by the brand.
Instead of focusing on key product attributes, like the cheesy taste or the quick prep time, Taxi chose to show the unique craving that KD causes — "when you see it, you want it."
Leveraging social media, specifically Facebook, the central piece of communication was the "Battles" campaign, which challenged Canadians to go head-to-head with friends, foes or total strangers, demonstrating how far some people will go to get their KD fix.
At the core of the campaign was the "Battle Zone," a Facebook application consisting of five unique challenges that were rolled out every two to three weeks from January to April. Consumers were driven to Facebook through two TV spots, while five battle-specific videos were launched on YouTube through a "Battle Zone" channel and embedded in the application. Online ads alternated throughout the campaign on Facebook and millennial-themed sites, as well as on Break.com, which featured appropriately themed roommate-pranking videos and drove to the application.
In the five months preceding "Battles," the Facebook community averaged 6,075 "likes," and during the 13 weeks that "Battles" was in-market, the KD Facebook page accumulated 12,491 "likes" per week (162,386 total). By April, KD had over 277,000 fans and has surpassed its yearly goal, with 400,000 fans by early July.
Castor Design finds inspiration with the GigaShelf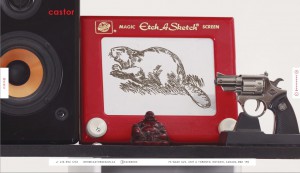 Castor, a multidisciplinary Canadian furniture design company, wanted a website that would not only showcase its work but also the quirky and distinctly Canadian inspiration behind its pieces. The agency created a website navigation page called the "Castor GigaShelf" that paid homage to a small shelf found inside the Castor studio filled with objects designers use for inspiration. Taxi took a photo of the shelf and blew it up, allowing users to get a detailed close-up look at the inspiration behind the work.
The GigaShelf image was developed using a GigaPan camera, originally built for the Mars Exploration Rover Mission and capable of shooting images with billions of pixels. The camera was used to photograph the actual shelf and the images were stitched together to create the website navigation page. This was the first commercial application of the GigaPan camera.
Users can explore every object on the shelf, many of which are also links to information about the company. The actual products and furniture are displayed using large, ultra-high-definition photos that are linked to objects on the shelf or accessed through a simple pull-down menu.
The mobile version is a virtual life-size replica of the same shelf that people can access through their mobile devices, using the accelerometer and gyroscope to turn it into a virtual viewfinder for navigating the site.
The site won at the 2012 Coupe International Design and Image Awards, and was shortlisted for a Cannes Lion.