AOY & DAOY Silver: John St. tickles the funny bone
John St. rides an 'uber-digital' focus to Silver in both Agency and Digital Agency of the Year.
After John St.'s viral "Catvertising" video, the agency started receiving some strange phone calls.
The spoof video, debuted at last year's AOY award show, predicted the importance of cats in advertising, and announced a new division at the Toronto-based agency dedicated to cat-centric ads. Despite being tongue-in-cheek (and very clearly a joke), animal handlers and cat lovers wanted in on the Catvertising action (the video had more than 1.9 million views at press time), with folks wanting to work (or volunteer their cat to work) at the agency. "The internet's a weird place," says Angus Tucker, partner and co-CD, John St.
But it wasn't only the feline-friendly approaching the agency – Mississauga's Dixie Mall and Great Gulf Homes hired the shop as a direct result of "Catvertising," while John St. fielded several international calls from potential clients who loved the video.
"[This] just shows we're very comfortable in the digital space," says Tucker. "We get it. We live in this world and we're still trying to keep our head above water because it's changing daily. I can't imagine what it's like for clients who have so much else on their plates."
John St.'s uber-digital focus stems from its birth around the time of the internet revolution in 2001. Brands were just beginning to explore what the net could do, and the agency's founders – Tucker, co-CD Stephen Jurisic, president Arthur Fleischmann, director of strategic planning Emily Bain and managing director Jane Tucker, who are also all partners – made the decision to bring digital directly into the agency and educate themselves on the space, rather than simply hiring a bunch of gurus and creating a structure that separated all the digi-know-how into one office. The result, Fleischmann says, is a media-agnostic approach to advertising, which builds all campaigns from insight into the best ways to communicate with consumers.
He attributes this to the agency's un-siloed structured. For years, the heads of digital and television production sat side-by-side, next to the creative team, allowing the pair to take the ideas and determine the best way to tell the stories on each medium. Three months ago, John St. solidified its media-neutral approach by collapsing the division between TV, digital and other types of production entirely.
"Production is really thought of as part of the creative team," says Fleischmann, further adding, "We don't have separate digital creative guys, we have great creative guys who can think across all platforms." Now, 11 years later in today's digital-heavy world, is it any wonder that four of its five AOY cases were digitally focused campaigns, three of which also propelled the agency to second place in DAOY?
The winning cases include Loblaw and World Wildlife Fund's online "Sweater Day: Granny Call Centre," Zellers' "Festive Finale" Facebook campaign, Mitsubishi's all-digital "Electriphobia" work, Rethink Breast Cancer's "Your Man Reminder" app and YouTube video, as well as ING's more traditional mass-focused "Forward Banking."
While all the cases submitted this year have a humorous tone, Fleischmann is quick to point out that John St. isn't defined by all things laugh-filled – much of its reel, such as work for Tata's Tetley and the Bay, isn't funny by nature.
"It's funny because that's what people notice and remember," he says of the work that goes that route. "Humour is inherently noticeable [and] breaks down the defensiveness that naturally arises in a buy-sell relationship. It's hard to be cynical about a brand when you're laughing at them."
But humour has driven much of the agency's viral success: between "Catvertising," "Your Man Reminder" and Zeller's "Festive Finale" videos, John St. has amassed almost five million hits in the past year alone.
"There's no such thing as planning a viral video. You plan a great piece of content, and if the content is really exciting for someone, you pass it on," says Fleischmann. "Our audience will only watch and share stuff that they think their friends are going to love."
As a result, much of the agency's work is light on selling brand messages, Fleischmann says. Rather they focus on creating a strong idea that engages audiences and then subtly weaves the brand's story throughout, resulting in creative that is entertaining to watch.
So what's next for the independent shop? Jurisic says they'd love to get more top-to-bottom AOR clients, managing both traditional and digital creative, that are willing to experiment, such as Mitsubishi. They also plan to release self-commissioned software meant to measure its integrated model and offer clients more precise metrics.
Oh, and Jurisic adds, "World domination." We expect cats will be heavily involved in that plan.
Read about the campaigns that helped John St. win Silver in both Digital Agency and Agency of the Year.
WWF and Loblaw get cozy with sweaters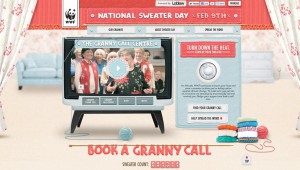 In February 2011, the World Wildlife Fund (with Loblaw Canada as lead corporate sponsor) introduced National Sweater Day – a day when Canadians were asked to lower the heat and wear tacky sweaters to show their support for energy conservation.
WWF wanted Sweater Day to reach Earth Hour status for its second year, with a simple breakthrough idea that would promote countrywide participation. While most Canadians were genuinely interested in taking part in Sweater Day, many simply forgot about it when the actual day came.
Grandmothers have been trying to get their grandchildren into warm, cuddly sweaters for as long anyone can remember, so who better to spread the second annual "Sweater Day" message and remind people to save energy?
John St. launched the Granny Call Centre, which saw participants sign up to get a personal reminder call from the Granny of their choice. The campaign was basically an old-school telethon mixed with new-school social media, and included an online video introducing people to the call centre and the Grannies. Participants were directed to SweaterDay.ca, where they could learn more about energy conservation, download toolkits for their school or office and, of course, book their Granny call.
Users could choose from a wide selection of grandmas, nanas, omas and bubbies. After they booked the day and time of their call, they could watch humorous sample calls from the Grannies (to let them know what to expect). John St. also dispatched a Granny media tour, with spokes-Grannies appearing on various radio programs and morning shows leading up to and on Sweater Day. Over 1.6 million Canadians donned sweaters and lowered their heat for the cause – a 55% jump over the previous year's participation.
ING Direct moves banking forward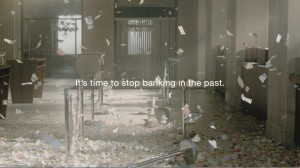 For 15 years, ING Direct had been a place to "save your money" – as its well-dressed Dutch spokesperson had put it. And people did save their money at ING, but in many cases, that's all they did.
The company needed to evolve from being a "place to save" to being a place to bank. John St. considered what a consumer would want from a bank in 2012, observing consumer behaviour outside the financial industry. The world has changed in the last 10 years, but the banking industry is the same, conducting most of its business in branches.
John St. wanted to show people that there was a better way forward. The plan was a complete 360-degree overhaul of the ING Direct brand – from its logo to design to traditional, digital and social advertising. The theme for the launch campaign was "Stop banking in the past," with all communication anchored by the new "Forward Banking" tagline.
The agency launched a 60-second spot called "Old Ways," which quite literally blew up the iconic symbols of traditional banking (from bank hour signs to velvet ropes to fine print-laden pamphlets).
Billboards went up in major Canadian cities with headlines like "Bank shouldn't be four-letter word" and "Service fees are so last millennium." A four-page National Post buy appeared with the headline: "You've changed. Why hasn't your bank?" And a 30-second spot ("Coal") talked to the specific advantages of ING's Thrive chequing account.
Early results from the campaign with Brand Pulse tracking data indicated that unaided brand awareness increased to 11% from 9% in one month, while all competitor measures had declined. New visitors to INGdirect.ca were up 30% versus the same period the year prior.
Zellers' Festive Finale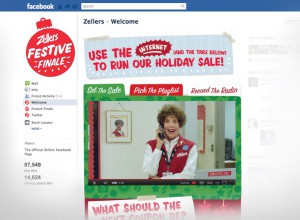 Zellers, one of the country's oldest discount department stores, would be closing its doors after it was announced that American super-chain Target would enter the market, taking the majority of the retailer's leases. A common theme in the online dialogue was that consumers and Zellers employees felt like they were at the mercy of big business, so John St.'s insight was to take something that was completely out of their control (a corporate takeover by a huge American retailer) and put it completely in their control.
The "Festive Finale" campaign launched with a video memo from the (fictional) executive managing director of Zellers. He announced that with Target coming in, Zellers' senior management was taking early retirement and leaving Zellers' Facebook fans in charge of the store's final holiday sale. The video drove viewers to the Zellers Facebook page, where two more employees were introduced – Carol, a very busy store manager, and Jason, a quirky cashier.
They invited users to weigh in on almost every aspect of the "Festive Finale" – from what items should be discounted and by how much, to the in-store music playlist, to what festive accessories real employees would wear to work.
In the first two months of the campaign, John St. built a Zellers Facebook fanbase from scratch to over 66,000 fans (this number is now over 140,000). The retailer also had its best fourth quarter in a decade.
Mitsubishi cures electriphobia
John St. was challenged with the task of differentiating the all-new and fully electric 2012 Mitsubishi i-Miev from the other eco cars, and had to do so without national TV, radio or print.
The agency found that most green-conscious consumers were interested in the electric car, but had a lot of anxiety about buying one. People had to get over these fears if they were to try the i-Miev, so John St. gave those fears a name (Electriphobia) and created a way to cure it: the Electriphobia Research Institute.
Electriphobia.com was designed to address the real fears people had about electric cars. The intent was to educate the consumer about the i-Miev, but entertain them as well.
John St. launched the campaign with ads online and in the urban daily Metro, as well as PR and an experiential event at the Green Living Show in Toronto. All media drove to Electriphobia.com, where visitors were encouraged to explore the "highly scientific" treatments available for each of their fears of the electric car. For example, "Shock Therapy" cured subjects' fear of being electrocuted by the i-Miev (by electrocuting him or her with everything else in the room). After each therapy was completed, their "patient chart" would be updated (and posted on Facebook) and they would receive useful information about the vehicle.
Three films ("Shock Therapy," "Tailpatch" and "Silent Treatment") were released online to encourage interest and drive the target to Electriphobia.com. In two months, the site received over 200,000 unique visitors, four-and-a-half times the projected 43,000 John St. hoped would visit over the length of the campaign.
Rethink Breast Cancer reminds with shirtless men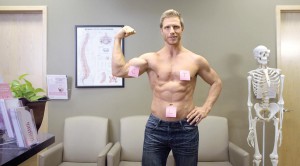 Almost every woman knows she should check her breasts monthly for breast cancer, but most don't. John St.'s goal was to change this behaviour, and found that fear, boredom and forgetfulness were to blame. The campaign idea was a simple reversal of the usual clinical approach to breast exam videos – rather than use women to show how to properly check for signs of breast cancer, it would use men.

"Your Man Reminder" was created – an easy-to-use app designed to get women to schedule their monthly reminder to check their breasts into their smartphones. A user could personalize the app by entering her name and setting a reminder date and time. She could also choose a hot guy to give the monthly reminder.

The app included instructions on how to perform a self-check using the TLC technique (Touch, Look, Check), an illustrative overview of the signs and symptoms to look for, and even a place to record notes and set your next doctor's appointment. To promote the app, John St. created the "Your Man Reminder" video showing women how to give their breasts the TLC they deserve. And like the app, it used hot guys to do it.

The video was posted on YouTube and received one million views within the first week. It was also chosen as one of 2011′s top 10 global Ads Worth Spreading at the annual TED conference, and won a coveted Webby at the 16th Annual Webby Awards in New York. To date, the video has over 2.6 million views from around the world and the app has been downloaded over 80,000 times.