MAOY Bronze: Media Experts' rejig pays off
The agency holds strong in the winners' circle two years running.
There's always room for another accolade. Despite a step down from last year's Silver Media Agency of the Year position, Media Experts stays in the winners' circle with Bronze.
Three years ago, the agency reshaped itself as a "tradigital" agency. This reorganization of staff into roles that bridge both digital and traditional media to create holistic planning and buying roles has helped the agency to better manage consumer interaction with paid media messages, says Mark Sherman, founder, owner and executive chairman of the Canadian independent.
Media Experts' blending of online and offline competencies has helped glean profitable results for BMW and its 2012 M5 model, says Sherman. For the vehicle, the agency's planners and buyers built a campaign across a web of channels to drive eyeballs and bring attention to the brand's centerpiece video "Bullet." The spot, which shows the car in contrasting scenes of extreme high speed and super slow motion, was housed on BMW's YouTube page and supported by online and cinema advertising, in addition to an outdoor domination.
The execution, with its inspiring end results, including two million video views garnered over the first weekend of its debut (doubled over the course of a month) and sales that exceeded BMW's target by 63%, illustrate the cross-media work Media Experts is pushing out. Sherman believes there is merit in meshing offline dominations with online, noting this played a fundamental role in generating scale for the BMW video within just a few days.
The agency employs 130 people, and of that, nearly 90 staff from the planning, operations and account services departments are involved in digital investment management in some way, notes Sherman.
But the agency still requires specialists, he says, adding that "digital solutions" is the largest single department in the company, counting some 30-odd individuals.
Media Experts endorses agency-wide education of consumer behaviour across all media, says Sherman, noting that the company must evolve as a whole rather than have a director of consumer insights directing the agency on how to adapt to the changing mediascape.
"Training and encouraging every employee to gain insights about the purchase path has an ever-increasing importance," he says. "In our company, people are neither buyer nor planner, but both. That way they can see the bigger picture, and they have their fingers in a lot of different areas and experience media in the same manner the consumer does."
It's this reaction and adaptation to the evolving mediascape that has allowed Media Experts to become a magnet for young talent, Sherman says, adding that digital has served as "an entry point into our agency for the brightest and smartest kids who are attracted by [its] fast-changing pace [and who then] become attracted to how all of it fits together as an ecosystem." He adds: "These folks have analytical skills and imagination untainted by stale, traditional business models."
Earlier this year, two of Media Experts' young stars – media planner Valerie Whiffen and senior broadcast negotiator Chris Walton – won the Globe and Mail's Canadian stage of the Young Lions competition and strategy named the duo two of its Next Media Star finalists. They were recognized for a YMCA campaign idea that brought people closer to the organization's community through a mobile app.
Sherman believes it's the agency's support for cross-pollination that allows its staff to produce media plans offering a holistic view of the marketplace.
Cross-media management of the path to purchase has become in vogue since digital shook the industry out of a standstill, adds Sherman. "We don't spend a lot of time thinking about how it was and how it is. I think we spend time changing and adapting," he says.
"Media has become a very exciting and fascinating discipline," says Sherman, who's witnessed the change over several decades. "Up until six years ago, we were in the dark ages of media, and we're now just coming into the renaissance. We're beginning to deal with data and attributions and analytics, and we're getting close to the Holy Grail and making connections between investments and return."
"All of that, we're just at the beginning."
Read on to see which campaigns helped Media Experts win MAoY Bronze.
Bell soars into the cloud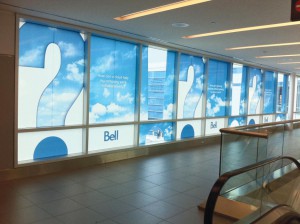 Bell Canada wanted to establish itself as a leader in cloud computing services. Media Experts' goal was to drive customers to Bell Cloud information online where they could download the service's computing white papers. The multi-channel strategy included full-page ads in Canada's leading business publication, and featured a flex-form, double-page domination in Posmedia daily newspapers.
The agency partnered with the Globe and Mail to create "Up Next in Technology." The editorial feature, which focused on new innovations, appeared in the Globe's Report on Business in print and online and was sponsored with dominant Bell Cloud executions driving traffic to online information.
To capture the attention of business decision-makers, the agency also planned and executed OOH dominations in Montreal, Toronto and Vancouver airport terminals. Interior columns and corridors were wrapped in 100-ft. long Cloud executions. Bell Cloud messaging on backlit posters, in-terminal entertainment systems and digital OOH display units throughout the terminals completed the domination.
Business travellers were further exposed with sponsored business video content and ads in in-flight enRoute magazine.
Online, Cloud executions included pre-roll video, sponsorships, e-blasts and rich media takeovers of popular mobile business websites. The TV strategy targeted the business viewer with 30-second ads within news, business, financial and current affairs programming.
Bell saw a year-over-year increase of 31% in its business solutions white paper downloads.
People for Good pays it forward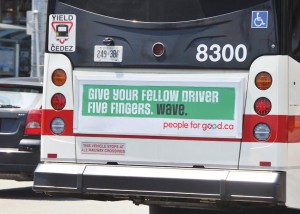 Media Experts set out to create a national multimedia campaign to promote kindness through People for Good – a platform where Canadians could share individual stories of generosity, and encourage everyone to help change the world one good deed at a time.
Engaging the communications industry at large would ensure the widest and most comprehensive media exposure possible. The agency targeted Canadians at multiple touchpoints throughout their day, from their morning radio, newspaper and television consumption, to the grocery store, online, in-transit and on mobile devices.
Media Experts secured free ad space from over 75 traditional media vendors nationally, totalling over 350 traditional and hundreds of online media properties contributing space exceeding $20 million in value.
The campaign launched with a full-page People for Good manifesto in all major Canadian daily newspapers. TV, radio, print, online, OOH and mobile components delivered suggestions on how Canadians could display generosity towards each other. Grocery store AdBars encouraged shoppers to let people with only a few items go ahead. Transit ads reminded commuters to surrender their seats and digital boards encouraged drivers to wave…with all five fingers.
A People for Good website, YouTube channel and Facebook page were created and Media Experts partnered in the development of an iPhone/iPad app.
In August the app was nominated by Apple for "App of the Month" and ranked in the Top 25 Most Downloaded Apps.
Future Shop gets schooled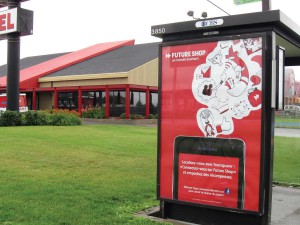 Future Shop found reaching students to be a challenge as they are often transient, busy and cash-strapped. Media Experts' research also confirmed that students consider a product first and the retailer second, and that they have plenty of options from which to choose.
The agency's goal was to position Future Shop as the preferred destination for back-to-school electronics by becoming and staying "Tapped In."
A Facebook "Tapped In" app was developed inviting students to cash in on $101,000 worth of gift cards and prizes of tablets, laptops and smartphone packages. By completing tasks like checking in on Foursquare, taking their picture in front of a Future Shop store or retweeting deals to their personal networks, students could earn credits toward prizes.
A "Tapped In" mobile ad was placed on Sympatico, Yahoo! and Addictive Mobility mobile networks, which drove users to the Facebook app and enabled students to rack up credits toward the prizes.
OOH creative strategically placed in student neighbourhoods, nightclubs, bars, skate parks, and universities all encouraged consumers to get the app at Future Shop's Facebook page.
Results showed 17,500 participants completed over 118,000 "Tapped In" tasks resulting in Future Shop meeting its six-week target in 12 days.