MAOY Gold: Jungle Media flexes its collaborative muscles
Read about how Jungle Media captured Media Agency of the Year Gold.
Jungle Media struck Gold this year, taking home top prize in the Media Agency of the Year competition for its work for Cadbury, Ikea and BC Honda Dealers.
The agency has not only been applauded by industry peers here, but received global recognition at the 2012 Cannes Lions Festival. Sheri Metcalfe, VP and co-managing director of Jungle believes an ability to work closely with agency partners helped Jungle create campaigns that impressed the judges this year.
The progeny of Cossette has been challenged with establishing itself in the industry, even when some of its parent agency's existing clients, including Nike, Kraft and Sony Playstation, moved their business to Jungle after it opened its doors in 2010, says Metcalfe. "We're all legacy Cossetters and when we fairly quickly decided to create Jungle Media, it took us a good while to find our voice and figure out how Jungle was different and unique from Cossette," she says.
Metcalfe notes Jungle was created with the mandate of being a stand-alone agency; fully invested in international client business. The initial mandate was to provide global brands with personalized media solutions for the Canadian market, but that later shifted to include local brands in the portfolio. The agency's partnership with Columbus Media (an international association of independent media agencies) makes global client acquisition possible, explains Metcalfe.
"We work collectively when global business comes up for grabs," she says. "Make no mistake though, we are hungry for business and when an opportunity comes up that we believe Jungle would be perfect for, we go for it, international or not."
It didn't take Jungle too long to find its stride in the market though, with the agency landing the Ikea account at the start of its first year in business and going on to produce award-winning campaigns in its second. The "Moving Day" campaign for the Swedish retailer (which won a Bronze Lion in Media at the Cannes Lions Festival) saw Jungle placing empty branded boxes on walls around Montreal on a day when many Quebecers move house.
The idea to give out boxes came from the brand's creative agency Leo Burnett, but it was Jungle that proposed flattening and hanging the boxes on construction hoardings around the city, notes Metcalfe. From this, the campaign was able to achieve scalability and reach, she says, adding that beyond the OOH component, the agency also negotiated a radio partnership with Montreal stations to "get people moving" while in commute.
It was the frequent meetings and willingness to work closely with its creative agency partner that led to the creation of a cohesive campaign that best used the resources at hand, says Metcalfe. She believes that the best work comes from media when it coexists with creative to amplify the core idea. "That kind of thing takes lots of meetings, and a lot of trust and fondness, to get to a creative solution with an agency partner."
Another collaborative sample of work, with agency partners DentsuBos and Hunter Straker, was the "Break into Alcatraz" contest from Sleeman Breweries. Consumers were given the chance to win tickets to the prison that once housed the brand's oldest customer, Al Capone, who was caught smuggling Sleeman beer in the early 1930s. It was promoted through radio stations such as 102.1 The Edge. Again, the directive was to "make the idea sing in media," says Metcalfe. "This was just one of those ideas that came to us when we were brainstorming. But it was truly a collaborative effort across all the agency partners."
Metcalfe says it can be challenging to find media talent that's comfortable with Jungle's hands-on philosophy "We have a lot of success hiring the entry-level out-of-university crowd and having them grow through our system, versus bringing people in with three to five years [experience]. I think it's because our brand of media is different than the rest of the industry."
"It really is a jungle out there," Metcalfe says, laughing. "There's a need to have a Sherpa guiding you through it all. What we do is just so complex. We have the challenge of trying to figure out new digital opportunities in terms of how to use them creatively. And that's a very iterative process, there's no dogma, it changes all the time."
Read on to learn about the campaigns that helped Jungle Media capture Gold:
Ikea gets things moving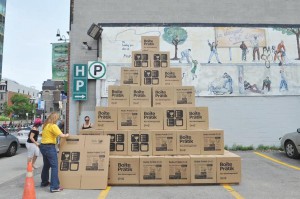 Jungle Media was asked to help increase Ikea's Montreal store traffic and sales from the previous summer. Since the annual Ikea summer sale coincides with the July 1 moving day, when Quebecers all move at the same time, the company wanted to help by providing boxes. The agency took it a step further, and turned the ordinary brown cardboard box into the central media vehicle behind the campaign.
The boxes became the creative, printed with moving tips, a checklist, a helpful dinner offer at the local Ikea for those who had yet to set up their kitchens and offers on new Ikea furniture. Hung as wild postings all over town, the boxes were quickly snapped up (physically going viral), and revealed messaging underneath that told people to come back once the supply had been replenished. Passersby could also pick up a box from event teams located around the city, who stacked them to create 14-ft.-high pyramids. The one non-box driven element was the takeover of a top local radio station, programmed to play upbeat songs geared "to get you moving" all day.
More than 10,000 boxes were given away over two weeks as local media picked up on the offering, and news of the free Ikea boxes spread online. Ikea store traffic increased 14% and sales climbed 37%. The campaign won Gold at the Media Innovation Awards, the Effie Awards and AToMIC Awards, as well as a Bronze Media Lion at Cannes.
BC Honda Dealers drive fun with new CR-V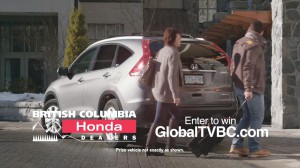 To communicate the benefits of the new Honda CR-V, Jungle Media moved its media mix away from the traditional auto page ads to reach B.C. car buyers wherever they are, whether that's shopping or catching up on news. On the print side, Honda wanted each feature of the vehicle to stand out individually in separate ads. To demonstrate the benefits of the rear-view camera, a translucent Metro newspaper spread showed a little girl on her bike hidden behind the SUV with a headline reading, "See what's behind you."
In grocery outlets, mini replica CR-V models were secured to conveyor belts at checkouts, with their wheels rolling along the surface as groceries moved down the line, while AdBars (the bar that separates groceries on the checkout conveyer belt) complemented the execution and delivered Honda's fuel economy message.
On the TV front, the agency worked with Global Vancouver to create a series of lifestyle-focused spots. Erin Cebula, a regular host on Global TV's Entertainment Tonight Canada, was used as the lead in a series of three ET-style segments.
The CR-V had its best February in history with sales up 25% in B.C. over the year prior, while national sales only rose 14%.
Cadbury makes sweet faces
Cadbury wanted to increase awareness of Maynards candy by engaging Gen-Y, so Jungle Media came up with a way to target social media savvy youth. The agency set up augmented reality units with facial recognition technology in three major malls across Canada. Users could transform their faces into Maynards candy and customize them by choosing one of four flavours.
After taking their photo, users were prompted to submit their email address and visit the Maynards Facebook page, interact with the "Make Your Face a Maynards" app and enter a contest to be the face of Maynards' next candy.
Over the course of the campaign, the units clocked over 17,000 interactions and delivered 6,500 emails contributing to more than half of all submissions entered, and aided in driving a 70% increase in Facebook fans. The execution won a 2011 MIA Gold for best use of OOH digital.