MAOY Silver: OMD integrates its way to glory
The agency returns to the MAOY podium for the first time since 2009.
Whether it was executing projects such as Nissan's 2013 Altima launch with a 3D holographic water show, creating steaming OOH billboards to keep Quaker Oats Canada top of mind with moms, or helping McDonald's Canada take questions (and give answers) about its company from the web to the streets, 2012 was a year of firsts for OMD. The agency takes Silver this year, returning to the Media Agency of the Year medal round for the first time since it took second place in 2009.
OMD's jump back onto the MAOY list comes just one year after Cathy Collier signed on as CEO of the agency's Canadian operations. One of the biggest changes she made was integrating the strategy teams for traditional and digital media.
"Our teams now develop strategy for all communications and media," she says. "We still have a really strong digital specialist group that leads the knowledge of where the consumer is, what the technical opportunities are and negotiates to get the best executions and collusions, but we have integrated that strategy group." Collier says the merge saved time and created more "single-minded strategies to line up against overall campaign metrics."
To keep up with digital trends like the rising use of real time bidding, along with fellow Omnicom Media Group-owned agencies PHD and Novus Media, OMD started using its parent group's tools more effectively in 2012, including the trading desk Accuen, global search marketing agency Resolution Media and data-driven marketing platform Annalect.
The agency made some significant hires, bringing on former TBWA\Toronto director of strategic planning Christine Maw as its managing director of strategic planning in the last six months.
"The addition of Maw has meant we are spending more time upstream, understanding the client's business challenges and the consumer, as well as brand and competitive insights," says Collier.
OMD hired Shane Cameron, former marketing VP at Points.com and Dell, as its managing director of digital and emerging media in the last half of 2011, which has increased what Collier says is "the largest digital group in Canada" at a media agency.
The agency also made significant changes to its Montreal office, rebranding it as Touché!OMD and hiring Nicolas Marin as the general manager. Collier says Marin, who was partner at independent media shop Escape M, was hired because of his analytics and media innovation knowledge. The agency was rebranded as a Touché! office so that Touché!PHD CEO Alain Desormiers could share his expertise with its OMD sister agency, whose employees now report to him.
"The rebranding of Touché!OMD has reinvigorated that [division] of the business," says Collier. "The team has a new leader [Desormiers] and a new way of looking at things. It has brought a change of direction to the Montreal office."
The agency took on two new clients in 2012, winning business for the Canadian Olympic Committee and AutoTrader.
This spring, OMD launched TV and digital spots targeted at a younger demographic for AutoTrader in a new project with creative by DDB. The aim of the campaign was to change consumer perception of the brand from a print product to a digital destination for used cars.
At the time the Olympic win was announced last spring, Derek Kent, CMO at the Committee, said OMD's work with large global brands including McDonald's and Visa made it a good fit for the Olympic account.
For the Olympics, work showing off Canada's athletes launched in May with a national 15-week multi-platform campaign around the tagline "Give Your Everything/Tout Donner" ahead of the 2012 London Summer Games. The campaign was featured on more than 800 OOH placements, garnering more than 600 million media impressions.
The aim of the campaign, which featured creative from OMG sister agency Proximity, was to create a personal connection between Canadians and the names and faces of the athletes representing them in London. The focus on personal connections is also on the agenda for OMD next year. "The unique selling points going into 2013 will be how we have evolved the kind of people we have at the agency, as well as the focus on data," says Collier.
Read on to learn about the campaigns that helped OMD win MAoY Silver.
Nissan's tech-heavy LAUNCH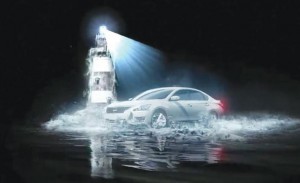 With Nissan Canada launching three new vehicle models before the end of the year, OMD was asked to execute a trilogy of integrated launch campaigns, the first of which being the 2013 Altima Sedan.
For the new Altima, the agency used a new app-driven platform for augmented reality called "Layar" for the first time in a Canadian newspaper. Working with the publishers of the National Post and the Toronto Star, OMD brought static ads to life with enhanced Nissan videos, links to Nissan.ca and social media pages. When readers scanned the creative with the Layar app, they were automatically shown a branded video and a link to find out more. A contest encouraged app downloads and allowed the consumer to play with the medium and view Nissan weekly retail ads.
The Postmedia Layar execution was an enhanced mock-cover wrap, which ran in 10 markets, and included "ticker masthead" ads on every page of the newspaper. The Toronto Star followed with a die-cut wrap cover and a Layar-enhanced one-third page centre spread ad in every section of the paper, along with a digital domination, driving to the Altima virtual showroom site.
Then to make an even bigger splash, OMD worked with NewAd to launch the 2013 Altima at Canada Day 2012 fireworks festivals with a 90-second trailer-style 3D water holographic show in Halifax, Ottawa, Toronto and Vancouver. A social media campaign also increased video uploads and drove to Nissan Canada's Facebook page. The concept earned Nissan requests from its global counterparts to run it in the U.S., China and Japan.
Visa Catches shoppers with app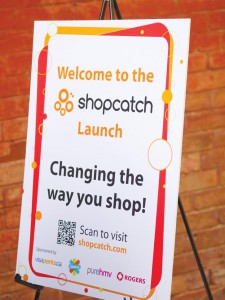 Visa Canada wanted to increase overall share-of-wallet (and volume of transactions) in an economic climate where disposable income remains flat, as well as shift share from its competitors.
During the back-to-school season, a campaign was developed that leveraged e-commerce deals featuring Visa-exclusive offers. ShopCatch, a location-based app and mobile website that acts as a shopping tool and deal finder, was created to function as a turnkey sales engine for the brand.
All of Visa's featured offers were promoted within the app and at Visaperks.ca. Users could virtually shop all stores within a walkable radius from their GPS coordinates, browsing deals by category, discount and vendor upon downloading the app.
OMD worked with Olive Media to launch a contest driving app downloads, increase traffic to the ShopCatch site, as well as leverage email subscribers and visitors to shopping-behaviour properties such as Flyerland.ca. Bloggers and editors of publications with Canadian audiences were invited to media launch events to test out the service. On the print side, OMD circulated Toronto Star Visa gatefolds at major transit hubs such as Toronto's Union Station, as well as to those with paid subscriptions.
The 2011 back-to-school period saw a notable lift in card usage, and Visa brand perception attributes. ShopCatch now has a nation-wide shopping mall retail presence, and over 100,000 Canadian app users.
McDonald's accesses moms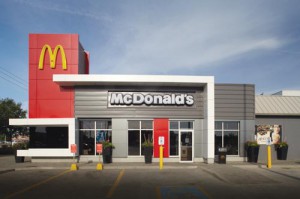 McDonald's Canada wanted to alter perceptions about its food quality – specifically those held by moms.
The agency built the "All Access Moms" program around the insight that moms trust other moms and that they love to share knowledge among their friends. The creative execution was inspired by the fact that the majority of people trust what they read online and believe what their friends say.

Influential mommy bloggers were recruited to become investigators and go behind the scenes at McDonald's (visiting kitchens, suppliers, product development and even a beef processing plant) to get the real story. They wrote and posted their own opinions with no editing from McDonald's, including answers to reader questions. Editorial vignettes of the bloggers' filmed experiences were created and aired on TV. Two "celebrity" moms – a well-known nanny and a former Olympian – joined the team and integrated this content into the show CityLine on Citytv.