Selling out pays off at Dixie Outlet Mall
The retailer location's new campaign offers gift cards to consumers who promote it via Facebook, Twitter or Instagram.
Holiday shoppers are desperate for deals (Black Friday anyone?), and Mississauga, ON-based Dixie Outlet Mall is eager to dish them out with its latest campaign, which will reward consumers for "selling out" on social media.
The campaign aims to build awareness for the mall and draw in shoppers. It's also part of the mall's early rebrand strategy that will continue into next year.
Primarily targeting women aged 18 to 45, the campaign features creative and media by John St. and is being promoted with OOH posters around Mississauga and within the mall, as well as print in On the Go, a Mississauga-based magazine.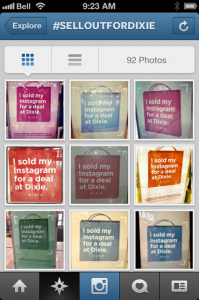 Angus Tucker, partner and co-creative director, John St., says that the campaign relies heavily on the mall's social media following to have a strong WOM effect.
To participate, shoppers can visit the Dixie Outlet Mall Facebook page and use the app to snatch up one of the weekly opportunities to "sell out." They can offer up their profile pictures for a week in return for a $20 gift card, their cover photos for a $10 gift card, or even their cars for $50.
Everyone who "sells out" is also entered into a draw to win a $500 gift card, and Twitter and Instagram users can enter by snapping a picture or tweeting with the hashtag #SellOutForDixie.
The campaign will run for four weeks. Every Monday will bring new chances to "sell out" on Facebook.
Ben Prout, account executive, John St., says the gamification of the campaign will appeal to deal hunters by challenging them to act quickly.
The "Sell out For Dixie" promotion wraps up Dec. 15.