Nissan's holographic showroom
The car co offers consumers a high-tech glimpse at its new models.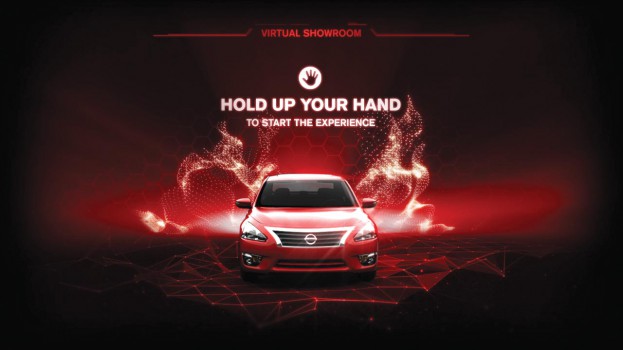 At the 2013 Canadian International Auto Show this month, Nissan will unveil a holographic showroom, by AOR TBWA. Straight out of Minority Report, the car co will invite consumers behind a curtain where a 3D hologram of its cars will appear – without the use of special glasses.
This is Nissan's second foray into the holographic world, having worked with TBWA in 2012 on a Canada Day execution to create a 3D water show featuring its Altima projected onto a stream of water. This time, the brand will use holographic mirror technology, the same used to create the Tupac Shakur image at the 2012 Coachella concert, to create the life-like (or in this case car-like) picture.
Show attendees will be able to navigate through different vehicle models with a wave of their hands, and Microsoft Kinect technology will let them customize the cars' colour and interior options. They can also rotate the image, all while being filmed and broadcast to the wider Auto Show audience.
The virtual showroom lets participants browse the vehicle at their own pace, without the pressure of a salesperson. Rimi Singh, brand director at TBWA says, "we're finding ways of engaging consumers in a different way."
The intended target is Nissan's buying audience – 25- to 50-year-olds – but Judy Wheeler, director of marketing, Nissan, expects it will be a big draw for kids and parents. The stunt will be tied to social media and on-site participation will be largely driven by staff and TV screens throughout the venue broadcasting the sci-fi-esque demos.
"Our hope is that people who come to the stand say, 'That is so cool, I need to go into a dealership,'" says Wheeler. "There's no doubt in my mind we'll be busy."