Mood Media rebrands, merges music services
The Toronto-based experiential marketing company has integrated its music divisions Muzak and DMX under a single name, Mood.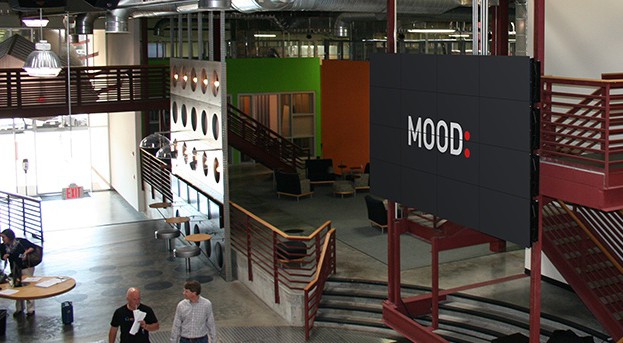 Mood Media has quashed the tail end of its moniker, branding itself as Mood as part of a repositioning that includes the merger of its music services DMX and Muzak (both specializing in creating music, digital and video signage as well as AV systems for the retail environment). In addition, the Toronto-based experiential marketing company has introduced the new tagline, "Mood: By Design."

"Consolidation has been an important part of our strategy," says Randal Rudniski, senior VP investor relations and corporate development at the company. Two years ago, Mood purchased Muzak (famous for being used as the generic term for background music in elevators and malls) for $345 million in an effort to tap into its audience base of 100 million. A year later, the company purchased DMX. Rudniski notes that 80% of company revenue is generated by these music-based divisions.

"We've integrated DMX and Muzak into the Mood brand to position our business as a unified whole," he adds. "From [an] audio background music service [perspective], we have expanded into front-line audio where music is very much a core feature of the retail experience."

Going forward, Rudniski says the company will begin to focus more on providing "data analytics related to consumer purchasing and movements," as well as assess which markets are ripe for company expansion. Today, Mood's products are in more than 560,000 locations, including Gucci, Crate and Barrel and Tommy Hilfiger stores, across 55 different countries.

Apart from Mood's background music divisions, which supply six million tracks for retailers to use in their stores, the company also provides digital signage, social and mobile applications and location-based services. Rudniski uses the Aeropostale store in New York as an example of a retailer using its music and mobile services, where shoppers can select which song playlist they want to hear while in fitting rooms. Customers can choose between five different music genres and control the volume of dedicated fitting room speakers using an iPad, he explains.

Mood also specializes in so-called "scent marketing," whereby the company creates different scents for retailers to discharge in their stores. "People are 100 times more likely to remember something they smell versus something they see, hear or touch," says Rudniski. Citing statistics from a Chicago-based Smell & Taste Research Foundation study, he notes that scent affects purchasing, with around 84% of test subjects 10 to 20% more likely to purchase, for example, shoes from a scented store.