If you'd have told early 1970s-era marketing executives at Royale Canada that in the future millions of people would spend countless hours looking at kittens on personal computers and "cellphones" they would have thought you very odd indeed. Probably even odder if you brought out the phrase "catvertising."
But as the Irving Consumer Products-owned brand turns 50, it can count with good fortune the benefits that the soaring popularity of felines has had on its brand value and awareness.
"The kittens of course have become synonymous with the brand," says Gary MacIntosh, director of marketing at Moncton, N.B.-based Royale Canada. "They're a tremendous icon for us that embodies the whole concept of softness."
The strength of that brand proposition helps Royale maintain a leadership position in the Canadian market amid fierce competition from private brand rivals that sell at a lower price. In the bathroom tissue category it sits at number two behind Kruger Products' Cashmere, and number three in facial tissue behind Kruger's Scotties and market leader Kimberly-Clark's Kleenex. But the company sits at the top when its paper categories – facial and bathroom tissue, napkins and paper towels – are combined.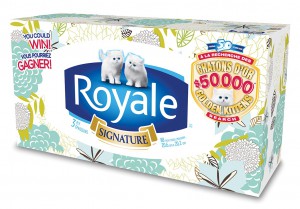 To celebrate half a century of success, Royale is rolling out several initiatives to celebrate the milestone with its customers, such as a contest called "The Golden Kittens Search," with a grand prize of $50,000 in cash. Those who find specially marked tickets inside Royale products can enter a draw, which culminates with winners being flown to Toronto to take part in a trivia competition (held in conjunction with ET Canada) with questions based on events from the past 50 years.
Royale hired the Toronto-based PR company Paradigm to help raise awareness of the brand's landmark and is working with Pigeon out of Toronto to design special packaging that commemorates the anniversary.
In conjunction with its Moncton-based AOR Hawk Marketing Services, Royale is also producing a book, Royale: Celebrating 50 Years of Kitten-y Softness, that will be distributed as gifts or prizes to customers, suppliers and employees over the coming year. The brand biography traces Royale's history all the way back to the establishment of a manufacturing facility near Jane Street and Weston Road in Toronto in the late 1930s by a company called Dominion Cellulose.
Royale has gone through numerous owners in its history. In 1961, Canadian International Paper (CIP) purchased Dominion Cellulose, and two years later, CIP introduced Royale to the Canadian market.
Royale launched both facial and bathroom tissue in 1963, and introduced paper towels and napkins before the decade was through.
Susan Jones, VP strategy and COO at Hawk, has worked with Royale since 2002, and oversaw production of the 50th anniversary biography, helping comb through decades of archived marketing materials. She says that much of its early advertising focused on product "news," such as reminding people that Royale was the first brand to introduce the softer, more durable two-ply bathroom tissue to the Canadian market in the latter half of the decade. "It was an innovation,  a major repositioning of the category," says Jones.
The first cat didn't appear in Royale advertising until 1971, and in 1973 the brand changed the cat to kittens. The first commercial featuring those kittens, created by the former F.H. Hayhurst Advertising in Toronto, can be found on YouTube by searching "Royale kittens." It shows fluffy kittens playfully batting around a roll of toilet paper on heavy shag carpet – everything is white and looks very soft – while a sultry female voice coos "the soft touch, Royale," over lounge music in the background. According to MacIntosh, it's the longest-running television ad in Canadian history, running from 1973 to 1984.
"This commercial is very much responsible for the strong brand equity we enjoy with Royale today," he says. The 1970s also marked the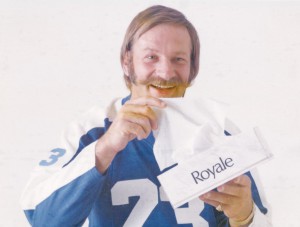 introduction of a line of napkins to the Canadian market. Also notable from the latter half of the disco decade was Royale facial tissues' "Noses" campaign, featuring the "Noses know" print advertisements and television commercials starring NHL hockey player Eddie Shack and his outsized honker.
As Royale moved into the 1980s, much of its advertising began to focus on how its packaging was getting bigger. As people moved into larger homes with more than one washroom, toilet paper adverts trumpeted the value in moving from four-packs to eight, to sixteen and beyond.
In 1991, CIP sold the brand to marketing behemoth P&G.
"[P&G] was all about brand-selling," says Jones. The CPG giant introduced several additional paper lines into the Canadian market including Charmin bathroom tissue, Bounty paper towels and Puffs facial tissues.
This period saw rapid change in a category already known for being fiercely competitive. In addition to the new P&G products hitting market, Kimberly-Clark reintroduced Cottonelle bathroom tissue and Scott paper towels, while Quebec-based Cascades introduced recyclable paper products. "What Canadian consumers had pre-2000 and what they have today with regard to household paper products couldn't be more different," says Jones.
P&G owned the brand for a decade, until Irving Consumer Products bought it in 2001 and reintroduced it to the Canadian market after a two-year hiatus related to the purchase agreement.
In 2003, the brand relaunched with a complete line: bathroom and facial tissue, as well as paper towels and napkins. There was new packaging (with the Royale kittens displayed prominently) and a new logo. New television creative rounded out a campaign that included a "ton" of shopper promotions like coupon incentives.
In the 2000s, Royale also debuted event-marketing specialties such as a life-size kitten mascot and the "Bathmobile," a truck converted into a giant tissue roll. The Royale kittens entered the digital age, debuting on their own Facebook page, which now has over 120,000 "likes." "We realized that people would rather be fans of kittens than fans of a bathroom tissue brand," says Francois Giroux, CD at Hawk.
Giroux has worked with Royale since 2006. He says that in the early part of the 2000s there was talk about doing away with the Royale kittens in a bid to modernize the brand. "The story I heard was that Hawk was instrumental in keeping the kittens a part of the brand, which was a very good thing," he says.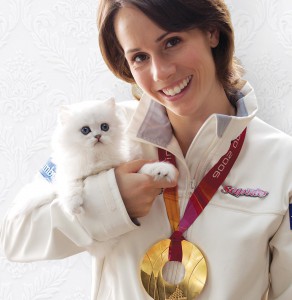 Giroux notes that the biggest shift in advertising since he began working on the brand is how the felines have begun to interact with the humans who actually use Royale products. That marks a move away from simply focusing on the cuddly creatures themselves to having them represent the idea of softness.
The 50th anniversary feline-focused contest makes sense given the role cats play in the brand's identity. MacIntosh, who joined Irving in 2007, says that the initial decision to tie kittens to the products' softness was a stroke of brilliant strategy that has helped sustain the brand's success. "The popularity of the kittens is incredible," he says. "[They have] become such a recognizable icon that it's easy for consumers to understand the brand's positioning. They get it right away."
Hawk constantly conducts research on what consumers want to see the Royale kittens doing or not doing, like talking. "Maybe the voice they imagined for the kittens would not be the voice that we came up with, and that would turn them off," says Giroux. "You inherit a brand that's well established and a brand icon that's become a symbol of Canadian advertising. You don't want to wreck it."
Looking ahead, Royale aims to capture more of the branded side of the tissue category, which makes up about 60% of the overall market. The brand also plans to release two new paper products this autumn. Those launches will serve to not only anchor anniversary marketing activities for the back half of the year, but also bolster the brand's strategy of seeking growth in categories beyond facial and bathroom tissue, such as paper towels and napkins. "There's definitely opportunities for Royale to continue to grow in the Canadian marketplace," says MacIntosh.