Shoppers takes personalized deals national
Following a successful pilot run of its tailored email deals, the retailer is exploring mobile technology for its personal discount program.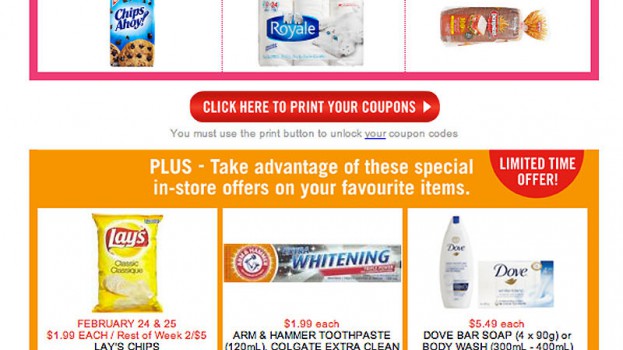 Shoppers Drug Mart has become an early adopter of personalized discounting in Canada, rolling out a national program for its Optimum Card members.

The personalized weekly emails include up to 10 product or category-specific coupon offers relevant to how a person shops, encouraging customers to take advantage of in-store offers on their favourite items, based on past purchase history.

Emails with subject lines calling out the personalization program are starting to arrive in the inboxes of an increasing number of customers around the country, coinciding with the retailers' regular flyer, as Shoppers expands a successful pilot program it launched in late 2012.

David Harrington, VP of business analytics and Optimum, says the test group of more than 100,000 customers was opening their personalized emails at a rate 10% higher than the control group receiving just the weekly flyer.

"We saw a clear uptick in sales for this group," he says.  "People were putting more objects in their basket. It was driving trips to the store."

"We knew with the strength, size and breadth of our loyalty program, that we had a hidden asset there," he adds. "And there was a pent-up customer demand and strong appetite for these types of personalized, relevant, tailored offerings."

For now, customers must print the coupons and bring them to the store, but Harrington says Shoppers is "actively pursuing new vehicles to provide these offers, including mobile."

The company does not have every one of its 10 million Optimum members' up-to-date email addresses, Harrington acknowledges. He says that Shoppers is content with engagement in the program for now and is not actively promoting the personalized offers during the phased roll-out, though it plans to communicate the initiative in the future, using its mass channels. It will also build the personalization program into its Optimum campaigns, which run several times a year to drive both sign up and encourage members to update their profiles.