AToMiC recap: glimpse into the future today
Yesterday's conference on technology, creativity, advertising and media brought together key speakers from different walks of life to look for ideas that push the industry forward.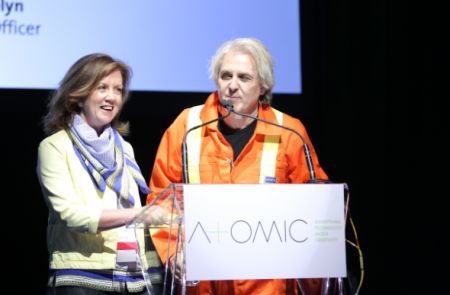 By Val Maloney, Matthew Chung and Megan Haynes

AToMiC was held yesterday at Toronto's Kool Haus, bringing in presenters from different walks of life to discuss the blending of advertising, technology, media and creativity and how it can propel the industry into the future.

First up was keynote speaker Grant McCracken, an author and anthropologist who discussed finding cultural relevance in the form of memes. He likened memes today to bad TV of the 1950s; formulaic, boring and predictable, but says that they can one day achieve cable-TV status, which presents brands with a huge opportunity.

Few brands are rewarding good meme producers or providing tools to create cool, shareable content online, he says, while many are missing great opportunities to embed themselves into the cultural meme itself. He gives the example of NCIS, which has a robust fan-fiction following (which many people participate in because their love for a brand is so deep that they feel ownership of it and therefore the right to change and adapt it). Buying a 30-second ad during the live broadcast is rather pricey, but what about buying an ad around fan fiction-works? It wouldn't be nearly as expensive and would offer a chance to embed into a product that the consumer feels he or she owns.

Following McCracken, Trevor Guthrie, East Coast director of OMD's Ignition Factory, took to the stage to chat about trends in innovation. The future, he predicts, will include a vanishing interface (pointing to devices like Nest, which smartly controls the temperature within your home without you having to do anything), and internet availability everywhere (referring to the connectivity of everyday devices, such as fridges and stoves, which in the recent past were not connected digitally).

Following on this idea, Donald Chesnut, chief experience officer at SapientNitro, chatted about bridging the gap between digital and physical. Technology today makes it possible to create tactile and technology-filled experiences, he says, pointing to executions like Coca-Cola's secret-recipe museum, which is filled with a digitally-rich history of Coca-Cola, bringing together things like taste-stations, optical illusions, video and more.

Just before lunch, Jaime Woo, author of Meet Grindr, tried to retrain the audience around the concept of gamification, which he says traditionally works as a "progressbarification." Brands and apps typically reward customers with virtual points and badges that help people advance to a "next level," whereas "games"  have traditionally had set rules and outcomes. Most gamification is just a digital loyalty program.

After lunch, Kevin Keane, co-founder of Brainsights, a company that uses brain-measurement devices to examine how the brain responds to content, made the case for so-called mad men or women and math men or women to co-exist, noting that Big Data should not replace or reduce creative ideas to an algorithm, but be used to augment creativity.

"We need to appreciate as math marketers, Big Data enthusiasts and creative people that not everything is predictable," he said. "The place for that data is in augmenting creativity."

Returning to the theme of the future, albeit a fictional one, Nathan Shedroff, program chair, MBA in Design Strategy at California College of the Arts, showed the audience clips of sci-fi movies and provided examples of how creatives can apply science fiction interfaces to their work. For example, Star Trek's "communicator" device, which was introduced on the show in the 1960s, helped to pre-condition consumers for what early-model cell phones would look like, he said.

"We can look to science fiction for inspiration, especially when we are using media we've never used before," he said. "We can learn from the future, even if it's not a true future, we just have to be critical about what we see."

Brennan McEachran, CEO and founder of Ryerson DMZ-based start-up HitSend, talked about one of its products, SoapBox, which is being used by clients such as RBC, Indigo and Liberal party president Justin Trudeau, to crowdsource ideas and vet them through online voting using white labeled Facebook pages and websites.

McEachran, using Indigo as an example, says the brand, which wanted to use SoapBox to grow and engage its user base through Facebook, has gone from 150,000 "likes" on the social media site to more than 300,000 since starting with the platform. It has also integrated ideas submitted from customers on the site, such as making larger versions of its Indigo blankets for its stores.

Closing out the day was PJ Pereira, CCO and co-founder of Pereira & O'Dell, talking about the notion of "What if advertising were invented today?"

Pereira says the idea isn't so much about overhauling the industry, but more about getting back to the basics of simply recognizing a client's problem and coming up with a solution. He says nowadays people only care about the piece of the pie they are working on, which is getting smaller and smaller as more specialized agencies are developed.

He adds he is worried about the industry losing its craft for some platforms, like print, and stressed the importance of not letting those skills slide while presenting examples from his own agency's work, such as advertisements for Scrabble.

Pictured: Cathy Collier, CEO, OMD and Steve Mykolyn, chief brand officer at Taxi Global, co-host the show.