Canada's emerging indies
There's been a flurry of start-ups, as well as some merger and acquisition action lately. Here's a run-down of some of the new kids on the block.
There's been a flurry of start-ups, as well as some merger and acquisition action lately. Since agencies are masters of advertising and branding, their take on positioning a new company should be insightful. If you're wondering why the world needs more agencies, or how to structure one from scratch for today's market needs, read on.
Jacknife Branding & Design
The backstory
The ink was still drying on the contract for Toronto's John St. acquisition by multinational WPP in January when Mikey Richardson, founder of design agency AmoebaCorp, was in meetings with heads at two other agencies to merge and form a multidisciplinary shop.
Until late 2012, nearly 70% of Richardson's agency was owned by John St. shareholders. He bought back the majority stake before news of the acquisition broke, and set off to launch Jacknife Design with his partner Mike Kelar, as well as with Marawan El-Asfahani, co-founder of Oxygen Design Agency (a brand and digital-focused marketing agency) and Matt Hexmer, founder of Apparatus (an industrial design-focused shop).
The agency is currently creating a tour bus campaign and sponsored athlete visual identities for Red Bull, developing a new line of tablet devices for Kobo, graphics for the entire snowboard line for Forzani Group, as well as working on the Healthy and Happy campaign for SickKids Foundation.
Creating products, not just ads
Richardson: Design companies are going to come together the same way that ad agencies have. They're going to develop their own products and take them to market. We want to provide an inspiration point for other companies and be one of the first out the gate.
As much as we love solving problems for clients, we also want to take our own properties to market. We now have a Monday initiative where designers and account people in the office can develop products for the agency, they can pitch to the partner group and we can green light them to go into development. This is something we've always wanted to do, but couldn't because we didn't have the scale.
Setting sights on Silicon Valley
What we really want to do is focus more on international competition. We want to be able to compete in Silicon Valley. There are companies like us in other markets, but not so much in Canada. No one is really building brands from scratch. For example, a cellular company might ask us to name their company, define their identity, design the phone itself and then take them to market.
The moniker
We wanted to layer in something about being Canadian. But we didn't want to be overtly Canadian. Jacknife made sense because it's a multipurpose tool, it's simple, ubiquitous and there's a craft to it.
***
The backstory
This time last year, Ted Boyd, CEO of digital agency 58Ninety bucked the trend of traditional agencies snapping up digital shops when he purchased Toronto-based Due North Communications, and several months later, creative shop BrandWorks. He had worked with Due North on the Workopolis account for five years, and wanted to merge with the 20-year-old branding and marketing firm to layer in broader capabilities.
The agencies joined to create One Advertising. The shop now employs a staff of around 85 in its new 16,000 square foot office on Richmond St, with Boyd at the helm and former Due North president Jill King continuing in her role.
Currently, the agency works with brands such as 3M, Nikon, OLG, The Royal Ontario Museum, LCBO, Molson Coors, Second Cup and the Globe and Mail.
Building a creative powerhouse
Boyd: We solve the thorniest problems using a suite of capabilities – deep technical and digital, rigorous brand capability and design capability.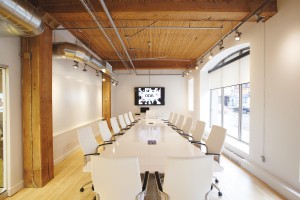 Often when digital agencies are acquired by larger brand agencies, a lot of the capabilities get subsumed and the technical sensibility dissipates. We created an entity that has both strong digital and strong brand credentials that continue forward in equal measure.
King: Due North used to fall back on the traditional brand agency model of getting the brief from client, developing creative strategy and then pushing it out. But now we get everybody in the room – media, creative, digital, tech and social – and decide how to solve the problem, and which media to attach to the idea.
The moniker
King: We wanted to let clients know that we have everything they need from a communications perspective, all in one place.
***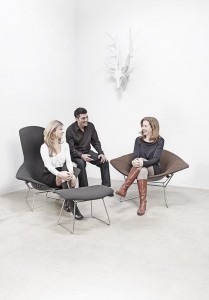 Giants & Gentlemen
The backstory
Former Taxi 2 colleagues Alanna Nathanson and Natalie Armata approached Gino Cantalini, formerly VP and brand director at Publicis Toronto, nearly a year ago to help build their semi-virtual agency (at the time, the operation was housed in the lounge area at the members-only Spoke Club).
Now with the shop settling in a new 2,300 square foot space in Toronto's east end, and employing eight full time staffers, the agency also takes the collective approach, hiring creative experts as needed.
The agency currently works with clients Park 'n Fly, Mother Parker's, Cineplex, Canopy Planet, Beaverbrook Developments, SIR Corp and Treasury Wine Estates.
Tapping Outthinkers
Cantalini: We find an expert in an industry that's unrelated to advertising and the client's business, but who understands the consumer we're talking to.
For example, we're building a concept for our restaurant client (SIR Corp-owned food chains Canyon Creek and Alice Fazooli's) around engaging consumers with characters and stories. So the team sat down with Robert Hough, an award-winning novelist, and he provided insights on how to build characters and engage people through stories.
This way we're able to bring in something fresh and have the creatives come at it in a totally different way.
Coming up
Giants & Gentlemen has been tasked with maximizing a modest budget to get 25- to 35-year-old males engaged with the story of Australian brand, Treasury Wine Estates.
An integrated plan, slated to launch later this year, focuses on social media, restaurants and retail. The creative idea is "Good advice from bad guys" and features shady characters providing useful tips regarding fashion, etiquette, cooking. This comes to life in print pieces, online advertising and a sharable "cooking show" video.
The moniker
The idea is about making great work with no hidden agendas. We're about turning the client's into giants, and always acting like gentlemen.
***
The backstory
In June 2012, communication and marketing firm Dentsu was in the process of expansion (purchasing agency Bos and renaming the shop DentsuBos) when its president and CEO, Bob Shropshire, decided it was time to downsize and build his own shop from scratch. He enlisted Emma Hancock, previously at Dentsu Australia as managing director, to be his partner in crime at Heroes & Villains Advertising in October.
Today, the Toronto agency is looking to fill its 2,000 square foot space that currently holds three bodies (Shropshire, Hancock as well as a junior creative who recently joined). It regularly works with senior creatives on a freelance basis, and outsources work to media planning and buying as well digital shops.
Secret Sauce
Hancock:
The last thing the business community in Canada needs is another ad agency. But when we looked at everything out there, we saw an opportunity to create something that takes us back to the basics of what agencies are supposed to be doing for clients.
For us, it comes down to a discipline we use call "StoryTooling," which is used as both a strategic tool and an execution tool to help clients harness the power of their story.
Writers use a standard flow to developing a story. The most prevalent is ABCDE (Action, Background, Conflict, Decision, End). StoryTooling uses a similar discipline to construct the brand story.
Why is this beneficial? Because in a world where products are at parity, we believe it's the brand's story that differentiates it from the pack and generates the competitive edge.
The moniker
Shropshire: The brands that we work with, we feel they need to become like heroes, and what's standing in the way of those heroes are villains. Those are the challenges they need to overcome.
***

123w
The backstory
After nine months of late-night planning, a newborn agency opened up shop in the garage behind its founder Jeff Harrison's Vancouver home.
Harrison, a former creative director and partner at Vancouver-based ad agency Rethink, was joined by co-founders Scot Keith (founder and president of ad agency Kommunity, which he continues to run), Bryan Collins and Rob Sweetman (previously co-executive creative directors at Dare Vancouver).
Today, the agency works on branding, packaging and advertising for clients including underwear brand SAXX underwear, Canadian Pacific Railway, real estate company Intracorp, Muskoka Brewery and Rocky Mountaineer.
Taking a page out of a filmmaker's playbook
Sweetman: We see ourselves as a collective, we aren't going to hire on a bunch of senior people as we go. We bring people in when needed.
We refer to it as more like the movie business than the ad business. A production company in the movie world hires on the best actors for the job at hand.
If we have to build an app one day, we don't need to have a full-time app developer in the garage with us, we work with the best in Vancouver or anywhere in the world to help us build it. That allows us to think business first and not about the staff we have on hand.
Harrison: And it's not just individuals, we can team up with a smaller studio or a small production crew. It doesn't limit us to having stations for everybody and extra overhead.
Secret sauce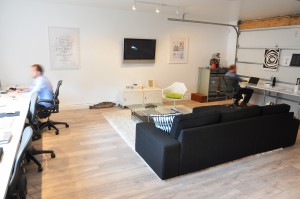 Collins: Clients have direct access to all of us. It's not like we have an account staff that clients have to jump over to get to creative, and a lot of times we'll even work at their office. That's the biggest advantage for us, as we're immersed in their company and culture.
The moniker
Collins: 123w is Vancouver's longitude. But the 123 part of it also implies simplicity, and how we can simplify the process and focus on the core elements of creativity and strategy.