Birks channels heritage for rebrand
The Canadian jeweller is opening new stores in Burlington and Montreal with the support of an OOH and print campaign.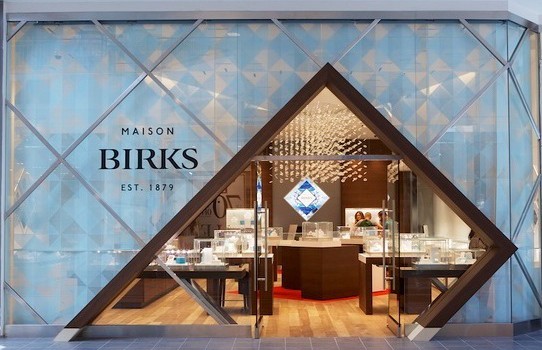 With help from Sid Lee, historic Canadian jewellery retailer Birks has unveiled a refreshed brand image, which includes changing its name to Maison Birks, as well as a new marketing campaign.

As a lead up to the rebrand, Birks launched a new jewellery collection with more diverse product designs last year. Now it is opening up new stores at the Mapleview Shopping Centre in Burlington, ON., as well as in Montreal, bringing its total number of stores in Canada to 31.

Eva Hartling, director of marketing communications, Birks and Mayors Inc., says that these new locations will feature the Birks brand exclusively, as opposed to focusing attention on third-party brands like most Birks stores currently do. She adds that Birks will look to open new stores, as well as convert an increasing number of its locations to mono-brand stores. It will also renovate existing stores to reflect the new brand image, including its flagship store at Bay and Bloor streets in Toronto next year.

She says that Birks, which has been around since 1879, saw this as an opportunity to keep the brand relevant and attuned to the needs of its three core customer groups, affluent millennials, Generation Xers and international luxury consumers.

To this end, the retailer has redesigned its logo to feature the new name, Maison Birks, but still feature the iconic blue box its products come in. The mono-brand stores, meanwhile, will offer a more modern, open-concept feel, which Hartling says is intended to make the jewellery-buying process less intimidating to consumers.

To support the launch of its two mono-brand stores, Birks has kicked off a new campaign, with media by Touché and creative by Agence Tuxedo, which relies primarily on OOH around the stores in Burlington and Montreal, as well as print spots in the Burlington Post, La Presse and the Montreal Gazette.

The new ads are heavy in imagery from Canadian nature and feature the tagline "Discover Birks in all its purity," a nod to the fact that the retailer uses only Canadian diamonds and that its new stores will only carry the Birks brand.

This push will be supported by Birks' upcoming fall campaign, which will feature print spots in fashion magazines like Elle Canada and Fashion, as well as digital spots on the Globe and Mail's website and Postmedia sites.

Hartling says that Birks is increasingly using digital as a marketing platform, and in particular is relying more on social media and blogger outreach to modernize the brand. She adds that magazines continue to be important because of Birks' connection to fashion and the need to be in the key fall issues of major fashion magazines.

She says this campaign aims to set Birks apart from traditional jewellery retailers and brands, which focus primarily on products or using models, by tying the brand to its Canadian heritage.

The campaign to support the mono-brand stores will run until spring of 2014.