Out of this world brand of the year: Chris Hadfield's astronomical take off
The Canadian astronaut captured hearts (and millions of YouTube views) with a social strategy that sparked a global love affair with outer space.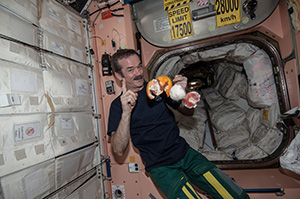 Chris Hadfield may have captured the hearts and minds of people around the globe during the former astronaut's five-month stint as commander of the International Space Station, but his launch into social media stardom was carefully planned by him and the Canadian Space Agency (CSA) two years before he took to the atmosphere.
The CSA traditionally connects with science and tech junkies, but with this particular mission, Anna Kapiniari, strategic communications manager, CSA, says it saw an opportunity to broaden its reach. "We wanted to bring space to people who thought they wouldn't be interested in this normally," she says. "We wanted to open it up to new audiences."
For example, the government agency and Hadfield partnered with Canada's Coalition for Music Education and the Barenaked Ladies to write the song "ISS" (Is Somebody Singing), which was then performed live on the CBC to more than a million students and music lovers from space (and has since been watched more than 900,000 times on YouTube).
Hadfield would go on to post more than 85 videos online, exploring everything from how water reacts in space to how he sleeps at night (with more than 23 million views at press time across all videos). He hosted an interactive chat with Reddit users (drawing in more than 5,000 comments and questions) and launched an interactive documentary website with the National Film Board of Canada. Finally, as a personal project, he released a music video, shot almost entirely from space, of him covering David Bowie's "Space Oddity" (bringing in more than 17 million views on its own), all while continuing his daily tasks.
The strategy worked. Hadfield's Twitter presence skyrocketed from 20,000 to more than 820,000. The CSA's follower count also jumped to 64,000, while traffic to the government agency's website grew by 70%. Hadfield also signed a book deal with Random House to publish An Astronaut's Guide to Life on Earth, which will be released Oct. 29.
But the biggest measure of success, Kapiniari says, was the creation of a wealth of new content the agency can share with schools, which is one of its biggest challenges.
"A lot of times science can be intimidating," she says. "So we wanted to show it can jump off a text book. It doesn't have to be intimidating – it can be fascinating and interesting. We wanted to find ways to help teachers inspire their students."