Best Buy launches a magazine
The tech company will launch a six-times-a-year tech and lifestyle publication in partnership with Rogers Media, distributing 300,000 print versions across its network of stores.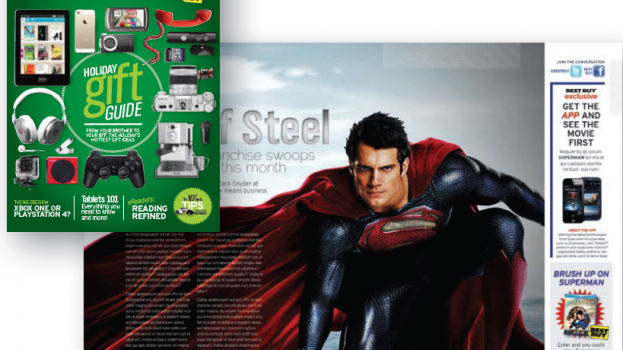 Best Buy is delving into the branded content space with a new glossy magazine, Best Buy Life and Tech, produced in partnership with Rogers Media.
The six-times-a-year pub, which includes print, digital and tablet versions, will focus on how technology fits into people's everyday lifestyles, says Angela Scardillo, VP marketing, Best Buy. The brand and media company will produce a year's worth of magazines, and then revisit the deal for 2015.
"Our brand position is 'Making technology work for you,' so it's not just about products we sell," Scardillo says. "We really wanted to look for ways to bring that to life, and a magazine is a great way to do that."
Best Buy will work with the Rogers team to craft editorial, which will include technology how-to articles, innovative new products and tech trends. The magazine will also include more pure lifestyle content, working in its new Viva line. 
"There isn't a magazine like that [on the market]," says Scardillo. "They're very techy for tech people – but aren't lifestyle oriented. This is an opportunity to humanize [technology], make it simple [and] answer questions people are afraid to ask."
The magazine, which will target a slightly male skewing demographic, will be funded by both Rogers and the retailer, with 300,000 copies distributed in Best Buy stores across English-speaking Canada.
It will also derive revenue from ad space, Scardillo says. The publication has no major sponsors or advertisers as of yet, but it was presented to agencies and vendor partners yesterday afternoon, with ad sales opening shortly afterwards. Ads are open to all brands and won't be exclusive to Best Buy vendors. She says this is a brand new initiative for the brand and didn't divert funds from other marketing programs. It will be watched closely by the American arm of the retailer, which has been hit hard by decreased sales and store closures over the past two years.
But Scardillo says it won't necessarily see an immediate return on investment. The brand will measure ROI based on digital engagement (click-throughs, etc), and reader polls for the print edition, but she isn't sure if it will drive people to stores. Rather, it's a long-term play to bolsters the brand's reputation.
"The purpose of this isn't to replace our flyer – [which is] promoting products," she says. "Because it's about making technology easy and more accessible to people, it really felt like a long-term play. Is that going to help sales in the end? Well, we hope so. But let's say it doesn't increase our sales but helps our customers get the most out of their technology, then we find that a complete win."