Musical brand campaigns to feed the soul
With brands upping their game with sound sensory marketing, here's a look at three global campaigns that struck the right chord with consumers.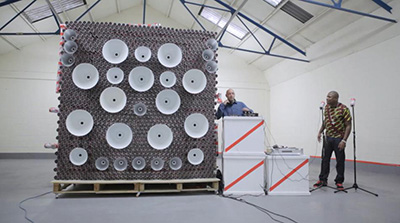 While not necessarily new, sound sensory marketing has taken a techy turn from merely playing music in stores to creating large-scale multi-sensory experiences to leave a lasting impression. Here are three of the year's best global campaigns that struck a different note to grab the ears of consumers.
U.K.: Red Stripe Lager amplifies culture
The reggae music culture is a strong brand association for Red Stripe, which is produced in Jamaica and popular in the U.K. To bring the beer's Caribbean roots to life, it created a sound installation (pictured above) with the help of London-based sound artist Yuri Suzuki. It repurposed 5,000 Red Stripe cans collected during a festival to build an eight-feet-tall stereo sound system, that was then used by a DJ and reggae musician as an amplifier for a live musical performance.
Germany: BUND performs a nutty show
If a chestnut falls from a tree, and no one is around, does it make music? Environmental organization BUND (Friends of the Earth) found truth in the altered philosophical question by creating a "Tree Concert" in Germany. As chestnuts fell from a 100-year-old tree in the city centre of Berlin, a touch-sensitive membrane at the foot of its trunk played musical notes to produce a melodic composition. The aim was to raise awareness of the 15,000 city trees that had been cut down over the years, with the installation resulting in an 800% increase in donations and a Gold Design Lion at Cannes this year.
U.K.: Aiaiai mutes urban noise
Urban noise pollution is a nuisance, so to help city commuters escape the noise of screeching cars and rumbling construction, headphone maker Aiaiai produced the "Sound Taxi," also in collaboration with Yuri Suzuki. The cab-turned-musical-jukebox used special software to analyze the frequencies of noises from car horns, sirens and jackhammers, that were then converted to instrument sounds (such as a bass or hi-hat cymbal) to create a melody. The city-calming music played through 67 speakers built into the car body for people on the street, as well as through the brand's headphone sets for those inside the cab.
Photo: Red Stripe built an eight-feet-tall stereo sound system out of repurposed beer cans.