Mobile means the end of anonymity: trend
The fourth installment of JWT's Canada Trend Study tackles mobile, from personal privacy issues to new business solutions.
At the end of each year JWT takes on a global initiative, tracking upcoming trends likely to influence consumers' lives in the coming months. This year, JWT Canada conducted its own  survey in this country to localize the global trends. In this five-part series, exclusive to strategy, the JWT Canada Front Row Insights Team Victoria Radziunas, Chantaie Allick and Melanie Reiffenstein break down the 2014 trend report with new Canadian data and examples. 
The End of Anonymity:
JWT's End of Anonymity trend is more real than ever. According to a Google study, smartphone penetration in Canada is 56%, and the majority of us are never separated from our devices. In an age of impatience, smartphone access is a must. But our smartphones aren't just helping us. They are helping companies and governments track our every move.
In JWT Canada's study of this trend, 69% of Canadians agreed they feel anxious about their habits and preferences being tracked or analyzed by companies. Surprisingly, the Boomer crowd is the least anxious about this (only 64%) and Gen-X'ers are the most worried  at 75%.
Developing a consumer behaviour tracking technology is Turnstyle Solutions, a Toronto startup making headlines around the world for being able to measure a user's in-store behaviour based on their smartphone data.
But what's interesting about this startup is that Turnstyle, which works with retailers to install tracking software, does not collect any personally identifiable information, says Chris Gilpin, the co-founder of the company. In fact, with its technology, consumers will be notified when their data is being tracked, Gilpin explains, because they must opt-in to the service to tie their personal identity to their smartphones.
Pulling data from consumers can feel intrusive, but allowing people to opt in to this kind of service will help bring in the End of Anonymity – especially when there's something of value offered to consumers.
For example, Gilpin sees a demand for this technology in industries ranging from fitness to automotive to clothing stores. "A venue can alter [their] products or services to better align with its customers' interests," says Gilpin, of the opportunity. It's beneficial to the customer as well, adds Gilpin, because "customers could exit a restaurant without having to wait for their bill, and have it automatically debited from their account. The possibilities are endless."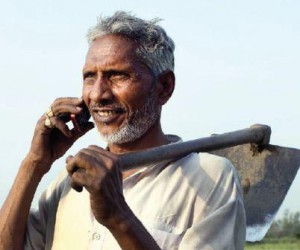 Mobile as a Gateway to Opportunity:

Mobile devices are becoming tools that can help change lives through helping people access financial systems, new business tools and resources for better health care and education.While this trend was largely focused on emerging markets, it's no less relevant in Canada, though at this point a bit better established.

For example, several years ago, farming chemical co BASF Canada used mobile to send text messages to their farming customers warning them when the outside temperature would drop below a certain degree, rendering BASF's product ineffective. BASF didn't want their customers to waste resources so it used texts to communicate real-time messages based on their specific product.

Such an example is what JWT Canada's director of user experience, Joe Szabo, who helped to build BASF's mobile technology, predicts will fulfill business needs in the future. He explains it's about providing a resource where people need it most. "Mobile's ability to close the ROI measurement loop continues to evolve due to the form factor's portability," says Szabo.

The Vicinity app designed for Rogers Communications by Little Room Inc. allows small business owners (such as restaurateurs) to offer their clientele loyalty programs, and was born out of the need to help these businesses (which often don't have robust marketing teams) connect with customers. Businesses can then build up customer databases and target exclusive offers, send promotions and access detailed analytics of their client base – and mobile takes them there.

Tapping into new business solutions through mobile may be harder in such a crowded space, but it's a huge opportunity for brands and businesses right now.