Creative Report Card: Creative directors full list
Judy John, Lisa Greenberg and Patrick Scissons land in the top three. Find out who else placed where on the list.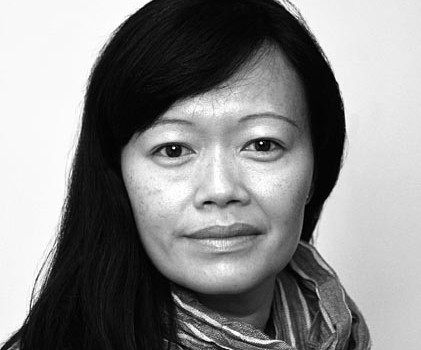 Here's the full list of Canadian creative directors tallied in the 2014 Creative Report Card, with rank, name and total score noted.
1. Judy John, 361
1. Lisa Greenberg, 361
3. Patrick Scissons, 261
4. Carlos Moreno, 246
4. Peter Ignazi, 246
6. Angus Tucker, 241
6. Stephen Jurisic, 241
8. Louis-Philippe Tremblay, 210
9. Denise Rossetto, 201
10. Todd Mackie, 199
11. Luc Du Sault, 198
12. Ian Grais, 161
13. Chris Staples, 161
14. Zak Mroueh, 155
15. Brent Choi, 140
16. Rob Sweetman, 139
16. Bryan Collins, 139
18. David Ross, 137
19. Paul Wallace, 123
20. Scott Dube, 122
20. Randy Stein, 122
22. Anthony Chelvanathan, 112
23. Steve Persico, 110
24. Cosmo Campbell, 105
25. Dean Lee, 104
26. Chris Hirsch, 99
26. Nellie Kim, 99
28. Shane Ogilvie, 96
29. Morgan Kurchak, 95
30. Lance Martin, 91
30. David Horovitch, 91
32. Pete Breton, 88
32. Dave Douglass, 88
34. David Frederico, 85
35. Deborah Prenger, 84
35. Nancy Crimi-Lamanna, 84
37. Sean Ohlenkamp, 77
38. Brian Murray, 74
38. Raul Garcia, 74
40. Jeff MacEachern, 68
41. Mike Byrne, 66
42. Marc Fortin, 65
43. Jeff McLean, 63
44. Neil Shapiro, 61
45. Ian MacKellar, 60
46. David Daga, 59
46. Robin Heisey, 59
46. Matthew Litzinger, 59
49. Israel Diaz, 58
50. Matt Hassell, 55
51. Dre Labre, 54
52. Michael Clowater, 50
52. Aaron Starkman, 50
54. Darren Clarke, 47
55. Dominique Trudeau, 44
56. Paul Riss, 40
57. Christina Yu, 39
57. Josh Dunford, 39
59. Ian Kay, 38
60. Mark Mason, 37
60. Murray Falconer, 37
60. Trevor Schoenfeld, 37
63. Joseph Bonnici, 36
63. Chris Allen, 36
63. Joe Piccolo, 36
66. Mike Halminen, 35
66. Jean-Francois Houle, 35
66. Sean Davison, 35
66. Martin Shewchuk, 35
70. Chris Booth, 34
71. Cory Eisentraut, 33
71. Mike Sipley, 33
73. Sam Cerullo, 32
74. Matt Antonello, 31
75. Mike Blackmore, 30
75. Marilou Aubin, 30
75. Amin Todai, 30
75. Steve Miller, 30
79. Dave Stevenson, 29
79. Pablo Vio, 29
81. Allen Oke, 28
81. Daryl Gardiner, 28
81. Tom Murphy, 28
84. Niall Kelly, 25
84.Hayes Steinberg, 25
84. Chris Harrison, 25
87. Tom Koukodimos, 23
88. Antoine Becotte, 22
88. Claude Auchu, 22
90. Gaetan Namouric, 21
90. Jennifer Varvaresso, 21
92. Jenny Smith, 20
92. JP Gravina, 20
92. Brian Howlett, 20
92. Simon Craig, 20
92. Hugo Léger, 20
92. Roger Gariépy, 20
98. Michael Milardo, 19
98. Mara Binudin, 19
100. Barry Quinn, 18
100. Terry Drummond, 18
100. Alan Madill, 18
103. Philippe Comeau, 17
103. Steve Mykolyn, 17
103. Daniel Vendramin, 17
104. Dave Stubbs, 16
104. Marc Melanson, 16
104. Greg Shortall, 16
104. Duncan Porter, 16
104. Dave Roberts, 16
104. Mark Waggoner, 16
104. Josh Fehr, 16
104. Ryan Leeson, 16
112. Rob Schlyecher, 15
113. Richard Belanger, 14
113. Greg Gray, 14
113. Noreel Asuro, 14
113. Michael Tung, 14
113. Marcus Sagar, 14
113. Barbara Jacques, 14
113. Jim Wortley, 14
113. Nick Richards, 14
113. Dave Watson, 14
113. Colin Winn, 14
123. Lisa Lebedovich, 13
123. Jeff Harrison, 13
123. Helen Pak, 13
123. Brian Sheppard, 13
123. Rob Ciancamerla, 13
123. Mike Monello, 13
123. Steve Coulson, 13
130. Serge Côté, 12
130. Adam Bailey, 12
130. Guillaume Cardell, 12
130. Matt Fraracci, 12
130. Jordan Doucette, 12
130. Jean Sebastien Baillat, 12
136. John Gagne, 11
136. Addie Gillespie, 11
136. Linda Carte, 11
136. Michele Leduc, 11
136. Mia Thomsett, 11
136. Stephane Charier, 11
142. Alex Gadois, 10
142. John Terry, 10
142. Kurt Mills, 10
142. Philippe Archontakis, 10
142. Nathalie Cloutier, 10
142. Jon Webber, 10
142. Kelly Zettel, 10
142. Todd Blevins, 10
142. Nicolas S. Roy, 10
142. Hughes Sweeney, 10
142. Greg Liburd, 10
142. Arthur Shah, 10
142. Maral Mohammadian, 10
142. Kyle Lamb, 10
142. Kevin Barclay, 10
157. Sean Barlow, 9
157. Ari Elkouby, 9
157. Chris Joakim, 9
157. Paul Giannetta, 9
157. Jaimes Zentil, 9
157. Rob Sturch, 9
157. Mike Donaghey, 9
157. Jane Murray, 9
165. Simon Creet, 8
165. Jamie Marcovitch, 8
165. Todd Cornelius, 8
165. Matt Bielby, 8
165. Sean Gannan, 8
165. Neil Woodley, 8
165. Irfan Khan, 8
165. Brett Channer, 8
173. Stephen Bennett, 7
173. Mike Meadus, 7
173. Barb Williams, 7
173. Sean Ganann, 7
173. Tony Granger, 7
173. Lauren Miller, 7
173. Adrian Belina, 7
173. Matthew Allen, 7
173. Mark Rawlinson, 7
173. Roehl Sanchez, 7
183. Paul Wales, 6
183. Troy McGuinness, 6
183. Paul Renner, 6
183. James Ansley, 6
183. Cam Boyd, 6
183. Derek Barnes, 6
183. Bennett Klein, 6
183. Karen Howe, 6
183. Scott Pinkney, 6
183. Dan King, 6
183. Josh Stein, 6
183. Patrick Chaubet, 6
195. Nicolas Massey, 5
195. Heather Chambers, 5
195. Andrew Gillingham, 5
195. Anne-Claude Chenier, 5
195. Craig McIntosh, 5
195. Steve Savic, 5
195. Santiago Fernandez-Concha, 5
195. Duncan Bruce, 5
195. George Giampuranis, 5
195. Nuala Byles, 5
195. Bruce Whelan, 5
195. Frazer Jelleyman, 5
195. Sylvain Thirache, 5
195. LP Tremblay, 5
195. Anik Ouellet, 5
195. Lisa Mok, 5
195. Carl Robichaud, 5
195. Christian Desrosier, 5
195. Bartolome Graziana, 5
195. Dan Pawych, 5
195. Joe Hospodarec, 5
195. Al Moran, 5
217. Ryan Hryciu, 4
217. David Keating, 4
217. Andy Brokenshire, 4
217. Steve Blanchet, 4
217. David Sylvestre, 4
217. Shirley Ward-Taggart, 4
217. Don Saynor, 4
217. Louis-Hugo Marchand, 4
217. Hylton Mann, 4
217. Ryan Spelliscy, 4
217. Andy Linardatos, 4
217. Peter Munck, 4
217. Dave Smith, 4
217. Dan Workman, 4
217. Mark Francolini, 4
217. James Filbry, 4
217. Jed Churcher, 4
234. Eva Polis, 3
234. Rob Tarry, 3
234. Mike Jones, 3
234. Doug Robinson, 3
234. Gary Holme, 3
234. Brad Dykema, 3
234. Daniel Leclerc, 3
234. Rose Sauquillo, 3
234. Trevor Carr, 3
234. Jason Buback, 3
234. Heather Hnatiuk, 3
234. Anthony Taaffe, 3
234. Tyson Hynes, 3
234. Stephen Bastien, 3
234. Brian Krenzer, 3
234. Gerald Schoenhoff, 3
234. Kristian Manchester, 3
234. Ian Schwey, 3
234. Chris Zawada, 3
253. Mike Dubrick, 2
253. Chris Taciuk, 2
253. Anne-Marie Blouin, 2
253. David Walker, 2
253. Renee Bender, 2
253. Alex Furrer, 2
253. Jack Neary, 2
253. Emmanuel Bégin, 2
253. Allen Forbes, 2
253. Paul Hains, 2
253. Italo Siciliano, 2
253. Andrew Samuel, 2
253. Todd Henwood, 2
253. Jonathan Rouxel, 2
253. Fred Roberts, 2
253. Paul Fayad, 2
253. Marco Marino, 2
253. Shawn King, 2
253. Dave Tupper, 2
253. Jim Hunter, 2
253. Chad Borlase, 2
253. Dean Martin, 2
253. Éric Chavagnac, 2
253. Rich Pryce-Jones, 2
253. Mo Solomon, 2
253. John McDougall, 2
253. John Farquhar, 2
253. Jeff Hilts, 2
253. David Chiavegato, 2
253. Mike Kasprow, 2
253. Joe Hash, 2
253. Beau Brandon Cleeton, 2
253. Kam Nong, 2
253. Yvon Brossard, 2
253. James McIntosh, 2
253. Thomas Nelligan, 2
253. Krystin Royan, 2
253. Bryce D'Andrea, 2
253. Donna McCarthy, 2
253. Kjirsten Georgison, 2
253. Jeff Cheung, 2
253. Adam Neilson, 2
253. Jen Rossini, 2
253. Daniel Iregui, 2
253. Liam Greenlaw, 2
253. Mark Rozeluk, 2
253. Nicolas Dion, 2
253. Milan Sukunda, 2
253. Darcy Maloney, 2
302. Chris Davies, 1
302. Asad Azizi, 1
302.  John Larigakis, 1
302.  Brandon Drew, 1
302.  Virginia Magaletta, 1
302. Andrea Archibald, 1
302.  Bob Goulart, 1
302. Steffan Postaer, 1
302. Dennis Lenarduzzi, 1
302. Eric Code, 1
302. Jordan Pierce, 1
302. Kristian Sumners, 1
302. Tom Greco, 1
302.  Chris Obergfel, 1
302.  Chris Bahry, 1
302.  Paul Williams, 1
302. Gilles Chouinard, 1
302. Peter Bishop, 1
302. Stefan Wegner, 1
302.  Ryan Kelly, 1
302.  Jean-François Bernier, 1
302. Chris Seguin, 1
302. Darren Tonn, 1
302.  Christian Desrosiers, 1
302. Joshua Stein, 1
302. Micah Slavens, 1
302. John Halliday, 1
302. Sebastien Wilcox, 1
302.  Dylan Moggey, 1
302. Roger Harris, 1
302. Ian Mackenzie, 1
302. Trent Burton, 1
302. Agostino Guastella, 1
302. Richard Luong, 1
302. Xerxes Irani, 1
302.  Colin Brown, 1
302.  Martin Strazovec, 1
302.  Andy Ploughman, 1
302. Sophie Harrington, 1
302.  Mark Vandervoet, 1
302. Asim Kirmani, 1
302. Domenic Vendittelli, 1
302. Dave Hamilton, 1
302.  Seth Hardie, 1
302.  Carlos Garavito, 1
302.  Christopher May, 1
302. Alexandre Torres, 1
302. Kilpatrick Anderson, 1
302. Dan Mullins, 1
302.  Martin Cinq-Mars, 1
302. Richard Hatter, 1
302. Michael Wurstlin, 1
302.  Shaun Brandt, 1
302.  Rene Rouleau, 1