Segal signs M&L deal for Orphan Black
The Draftfcb division will start rolling out merch for the Canadian TV show in April.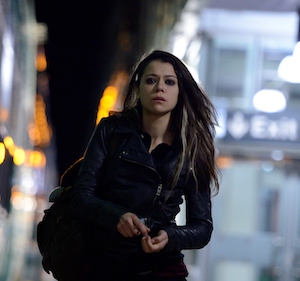 Orphan Black, a Canadian hit on Space revolving around a cloned woman, will soon clone itself across a range of new merch categories following a deal between Toronto-based Segal Licensing, a division of ad shop Draftfcb Canada, and Toronto's Temple Street Productions.
Announced Tuesday, the licensing agreement will see Segal expand the Orphan Black brand into the retail realm, starting with apparel, to coincide with the show's April 19 second-season premiere. It will then expand to include "the whole gamut," including collectibles, says Stuart Pollock, president, Segal Licensing.
The licensed merch will be distributed through specialty retail to begin with, says Pollock, declining to name specific retailers. Eventually, the strategy would be to integrate mass retail and e-commerce, he explains, but Segal prefers to lay the groundwork through specialty stores first.
"That's the model we've worked through on other adult shows ," he says. "Start it in specialty where the fan base is, let it grow into that marketplace for a few years and then take it into a mass market. That way you're creating product for that demo."
Segal and Temple Street have been working together on a similar agreement for tween dance drama, The Next Step, inked last year to include merchandising, event and publishing rights.
"The natural evolution based on the success we had with them [for The Next Step] was to look at the next property that made sense," he says. "We're huge fans of Orphan Black and we thought it would be a good opportunity to sell that into the Canadian marketplace and take it to the next level."
Boasting that the growth in M&L for adult properties in Canada has been "staggering," Pollock says the opportunity for Orphan Black is really not much different than other niche properties Segal has executed similar deals for in Canada, including Sons of Anarchy.
It's all thanks to a generation that grew up with brands integrated into their lifestyle, he notes.
"I always like to say that physically we get older but mentally we stay the same way. That 18-year-old who grew up wearing licensed apparel from age six – when they hit a certain age, it doesn't mean they don't want to continue to support the properties they love."