Philips lights the way for consumers
The tech company has introduced a retailer lighting system that talks to smartphones.
Philips' lighting division has unveiled a new smart light that communicates with your phone.
The in-store LED light was on display at Euroshop in Dusseldorf last month, showing off its way-finding capabilities. The intelligent lighting system is currently being piloted with a number of global retailers, says Jella Segers, senior marketing director, Philips Lighting, retail, though she couldn't identify the shops.
The lights communicate with the smartphone via a flickering that isn't perceptible to the human eye, Segers says, and activates triggers in apps. Each fixture would have a unique pattern that can be customized based on retailers' needs, she says, allowing brands to send out coupons or deals to consumers when they are near a certain product. It could also act as a guidance system for consumers (they load in their shopping lists and the lights show the way to various items) or a tracking system, monitoring where people stand and visit most frequently.
The lighting system would work with existing retailer apps, Segers says, and stores (or other large-scale spaces that could benefit from way-finding, such as airports or museums) that already have lighting infrastructure in place. The beauty of the system, she says, is there aren't any external beacons or other tech to create a dense network.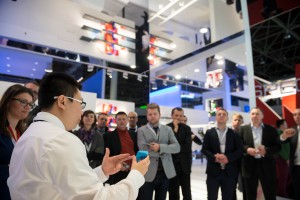 Way-finding has been long-heralded as a huge opportunity for grocers, allowing them to introduce location-specific deals or coupons or guiding consumers to other relevant product offerings. However, with varying store layouts (from big box to small urban shops) and wide-ranging locations (Canada's two big players Loblaw and Sobeys have 1,400 and 1,500 locations across Canada, respectively), it's been difficult to implement mapping capabilities at store level.
Segers says they're hoping to bring the lighting system to market by next year, and are open to working with more retailers and brands for pilot projects this year.