Kijiji borrows from sellers
The brand crowdsourced 100 items for sale from its own site to use as props in new spots.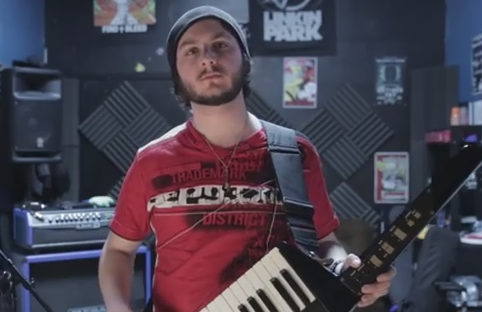 It took only two weeks for the team at Kijiji to source and borrow big- and small-ticket items, like a retro keytar and a family minivan, from 100 people who were using the classifieds site to make some extra cash.

Those items were then displayed on the walls and floors of a studio to be used as props in the brand's latest campaign that puts Kijiji's money where its mouth is.

"We wanted to showcase and talk about our large inventory that [we] have on the buy and sell side," says Marc-Andre Hade, marketing communications at Kijiji. "And we thought, 'We can say it, but what if we could prove it?'"

That's when the brand and its agency Cloudraker decided to reach out to the site's community, asking members with items listed for sale to help out by allowing the brand to take the goods off their hands and demonstrate, in two TV spots, what buyers can expect to find on the site.

In the first ad, a young woman walks through the studio on a "hobby hunting" spree, eagerly browsing the items and even stopping to pose for a selfie before being distracted by someone playing a keytar.

The second ad is more geared to attract buyers in its big-ticket auto section, with a family man peeking through the windows of sports cars before happily settling with the keys to a "family man van."

It makes sense for the brand to include its members in the process – many of them actively use Kijiji beyond just buying and selling, posting ads for friendships, romantic relationships, community events and ride shares. "This is really about Kijiji being the destination for community transactions," adds Hade. "We get user stories, and we know they're super involved, so [we] wanted to have them [participate]."

The brand has injected a similar community feel into previous creative, with the 2013 "Local Heroes" campaign as one example, in which regular Joes and Janes were put on a pedestal for helping their neighbours out by purchasing their stuff and putting extra money in their pockets.

From TV to online to radio to OOH, the campaign will be promoted across platforms, with media placed by Denneboom. In addition to the TV creative, which will also be housed on the Kijiji blog and run for four weeks, there is its "Making Of" behind-the-scenes video, which shows the brand and its team sourcing the 100 items from Quebec and the GTA, and their interactions with the owners, from the first phone call to visiting their homes to pick up the items.