Holt Renfrew's see-through exhibit
In partnership with French Embassy, the retailer X-rays some luxury goods.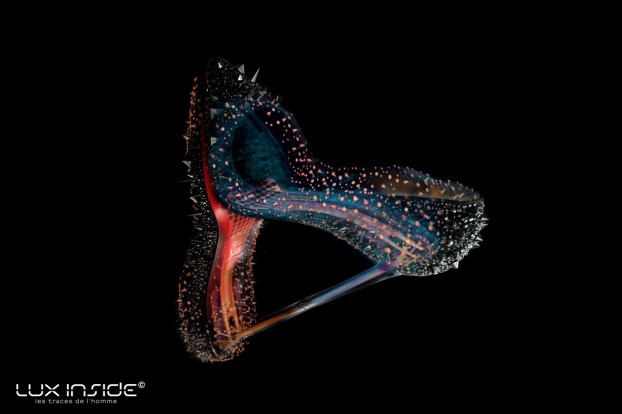 Launching today, Holt Renfrew is bringing a gallery exhibit into its stores.

Following successful partnerships with the Design Exchange Museum and the AGO for curated collections (from shoe designer Christian Louboutin and musician David Bowie, respectively), the luxury retailer sought to bring the experience to the actual store itself.

"Arts and culture are really core to our DNA,' says Kimberly Grabel, SVP marketing and customer experience, Holt Renfrew. "Our business is art – it's a direct extension of what we do in fashion."

Partnering the French Embassy, the retailer is bringing "LuxInside, Traces of Man" by photographer Laurence Picot, to Canada, after it's toured Europe and South America.

The exhibit features X-rayed images of 14 luxury goods, such as a Louboutin heels, Saint-Louis crystal, Leica cameras and an Hermès saddle, among others. Many of the photographed items or brands are also available in stores, adds Moira Wright, divisional VP, PR, Holt Renfrew.

This exhibit goes to the heart of the brand, Grabel says, giving shoppers a chance to see what goes into luxury goods, literally. "There's more to luxury than meets the eye," she says.

The exhibit will live in the brand's new men's section of its Yorkdale department store, before touring to Calgary, Montreal and downtown Toronto. It will run through until February 2015.

Though in the men's section and titled "Traces of Man," the actual exhibit isn't targeted at that particular gender, Grabel says; rather the title is in reference to mankind's imprint. The brand is targeting people with "inquisitive minds, interested in how quality products are crafted," she explains.

The exhibition will be promoted through launch events, over social media and blogs, as well as through an e-news blast, with measurement tracked through social and media buzz, and customer feedback.