Lowe's to unveil a holographic showroom
Straight out of sci-fi, the retailer will unveil a new immersive room where shoppers can test out bathroom designs, as part of a new Innovation Lab that turns marketing over to science fiction writers.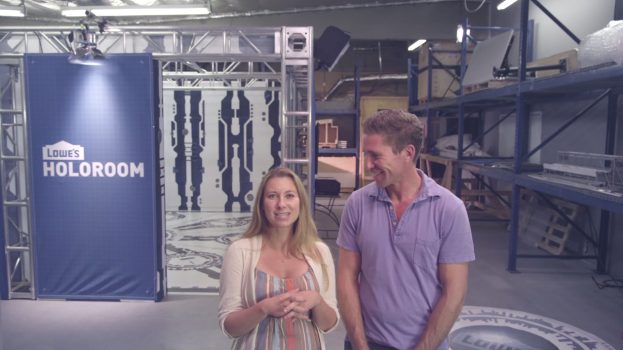 Computer. End program.

You don't have to be a Star Trek buff to appreciate how cool a holographic showroom could be. And come fall, those in the Toronto area might be able to swing by one to take a tour.

Lowe's is rolling out a pilot holographic room, which will introduce a simulator where people can try out different products before they buy them. The goal is to open at two locations, says Kyle Nel, executive director of Lowe's Innovation Lab, (the brains behind the room) though he hopes in the future to roll out the Holoroom to more locations.

It's not quite a full holographic room. Rather, consumers are invited to recreate the room they want to renovate on a screen and add in products they want. The room is then displayed on a tablet, and shoppers can move about the room to "tour" the space they just built, while objects appear in 3D on the screen. At the moment, the tech is limited to the bathroom, but over the next 12 to 18 months, the home improvement retailer will roll out new product categories and rooms. And while there are no immediate plans, Nel says he could see this becoming available to download at home so people could use the tech in their own space.

Toronto was chosen as a pilot location because of its tech-forward thinking, but also because Lowe's International (in which Canada falls), is designed to be a test-bed for new technologies, Nel says.

It'll be relying largely on word-of-mouth promotion upon launch, says Ari Popper, founder and co-CEO of Sci Futures, which helped build the Holoroom tech.

The Innovation Lab opened less than a year ago with the sole purpose to imagine and build the future. The Labs (there are two, one in L.A. and one in Mountain View, California) partner with local startups, universities or non-competing corporations, to bring in different types of expertise to co-create. They also operate separate from Lowe's headquarters, Nel says. "In order to stay current, you need a group on the outside doing wild and audacious stuff." While there are no immediate plans to open a Canadian lab, he says it's not outside the realm of possibility.

It works on a system Nel calls sci-fi prototyping, which means taking internal data, problems and resources, and turning them over to science fiction writers, who then imagine the future. Writers are tasked with writing short stories, complete with characters and conflict, which are turned into comic books to present to senior management staff.

Nel says the idea was inspired by the age-old dilemma of sharing really cool ideas with senior executives that get great praise, but don't seem to leave the boardroom. With everyone talking about content and storytelling, he approached Popper to see if that could be used as a way of selling future-focused ideas.

The Holoroom is the first of many projects, he says, though he won't divulge how many other sci-fi projects are coming down the pipes. "When they come out, the feedback should be, 'I can't believe Lowe's built that!'" he says.

This isn't the first time Lowe's has played with augmented reality. Back in 2012, the retailer rolled out an app that works alongside the store's weekly flyers, allowing people to visualize and "tour" a fridge or washer/dryer in their own homes.