Froster's transformative powers
The frozen drink can make a dinosaur/yeti/scientist out of its drinker yet, says Mac's newest wacky radio spot.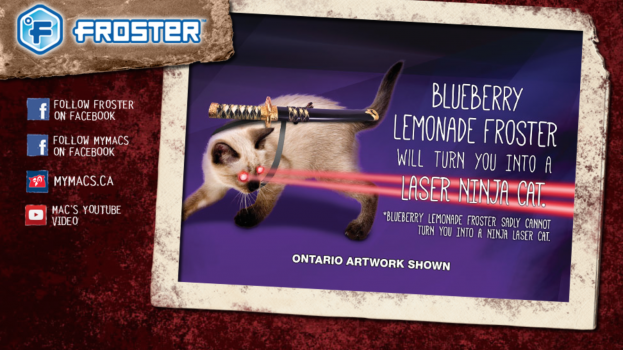 What makes you stronger than a snowman's bad breath slapping you in the face? That would be a Froster, of course.
Froster is the frozen ice drink from Mac's Convenience and competitor to brand-heavy Slurpee. It's a brand that in previous years, has stirred the controversial pot with marketing that used internet slang, such as WTF ("What's the flavour?") and STFU ("Suck the Froster up") to target a young, web-savvy male target.
But its new eight-week long campaign, from Giants & Gentlemen, is, well, a little more gentle, though still continues to embrace its wacky side with a voice-over in a new radio spot stating how the Froster "will make you cooler than a giant weeping yeti."
It's loud, it's weird and uses explosions and bizarre statements to get the attention of young boys who tend to have short attention spans. Creative director Alanna Nathanson says her agency was hired in April to shake things up, and "push it out a bit more creatively. They wanted something that would really get noticed by these guys."
As much as the ad is to promote the drink, Nathanson says this is also a brand play.
"Basically, they wanted to brand Frosters in connection with Mac's so that these guys would understand that that's where you get one," she says. "It's the Mac's frozen drink and they really wanted to brand that heavily."
It's also meant to complement and play off of the marketing material that's already in store, she adds. In select stores, the retail POS also talks about how the ice-cold Frosters can turn its drinker into something else, such as a psychedelic psychic, mad scientist or a laser ninja cat.