Wines step up to the table
From a new take on food trucks to a digital activation during Pride Week, check out what summer has in store for a few vino brands.
Consumers might be looking for drinks to cool down these days, but wine brands are heating up the space with sampling programs, brand activations and in-store programs.
Strategy caught up with a few to get the lowdown on what's making waves in the category this summer.

Two Oceans unveils a new summer bod

As South African brand Two Oceans' largest market, Canada is leading an international rebrand for the wine, with a launch event held in Toronto last week. With new entrants to the market, the brand felt it was time to examine its packaging and positioning,  says Greg Smith, country manager, Canada, Distell Group.
"I think a lot of the bigger brands right across all the countries of origin were seeing that their market share was under attack, there's no doubt about it," he says. "And [in] Canada, and Ontario, Quebec and B.C. especially, we were seeing new entrants to the market all the time. The clutter of brands was continuing to get bigger, so a brand that was as big as Two Oceans was being hit on many fronts."
In Canada, Two Oceans has a share of about 10-12% of the South African wine category. The brand aims to reach young professionals with an active, social lifestyle, tapping into that "wind down" moment, as one in which they'll pick up a bottle, he says.  Although the former tagline focused on location – "From a very special place," the new tagline calls out the place of origin's unique characteristics – "Crafted by the African sun and cool sea breeze."
"It's really designed to remind wine lovers of the conditions that give rise to the brand and that's its position with the Indian and Atlantic Ocean, so you get the cooling effect from the ocean but you also get the African sun through the day that can heat up quite a bit," says Smith.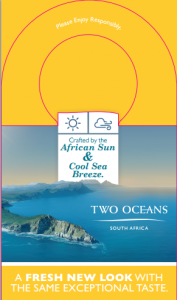 The new bottle, which he describes as "more approachable," is taller and meets criteria to be deemed "lightweight," while the formerly white label has been swapped in favour of one that is partially transparent, helping the reds in particular to stand out.
The new look is currently rolling out in Alberta, B.C. and Quebec, with localized POP material originating from South Africa focusing on the weather and sea breeze. In Ontario, hangers around the bottles' neck are slated to rollout at certain times, along with the possibility of a contest unique to Canada to tie into the sun and sea elements, such as a visit to South Africa, he says, adding a cruise trip was a past prize.
The brand might also undertake a media buy in the future, he says, adding digital will be part of the brand's strategy going forward. In the meantime, it has been working on a PR push with Your Brand (which also handles social, tactical media buying and creative), reaching out to major writers and bloggers.
Barefoot aims to imprint on Pride-goers
Carrying on with its history of supporting LGBTQ events, Barefoot Wine & Bubbly is activating at WorldPride Toronto this week, offering up samples of its new line, in addition to a new initiative that taps festival-goers to make their mark on the parade.

The brand, which positions itself as inclusive and accessible, removing a sense of elitism associated with wine drinking, is developing an 800-square-foot flag with digital imprints of peoples' footprints slated to be carried in the parade this weekend.
The brand hopes to collect 80,000 footprints at its imprinting station, where participants stand on a stamp pad to wet their foot and then step onto another surface, which digitally captures their footprint, says Jennifer Smith-Vaillancourt, marketing manager, E. & J. Gallo Winery Canada.
When asked if the flag could become a label or referenced in future packaging, Smith-Vaillancourt didn't rule out the possibility.
Meanwhile over at the alcohol gardens at WorldPride, the brand is sampling a range of its products including its Barefoot Refresh, which rolled out this spring and has half the sparkle of traditional sparkling wine and is served chilled over ice. Moreover, it taps into the insight that consumers often add ice to their wines on a hot summer day, and validates this practice. The brand estimates it will distribute over 12,000 glasses of wine.
Wine on wheels
Just when you thought mobile food kitchens were the best thing since sliced bread, along comes a wine truck to usurp the title. Wine Country Ontario has embarked on a 16-week mobile tour of the province dubbed "Dare to Compare," making pit stops at festivals and events to offer samples to wine drinkers. Bringing wine country to consumers, the program, developed with Hamilton-based Go Bee Marketing, targets wine drinkers ages 25 to 55, and will hit a variety of events with different demographics to reach a broad audience, says Hillary Dawson, president, Wine Council of Ontario, adding she expects to sample 70,000 ounces, and the program is already ahead of target.
Once consumers register to sample the wines, which range in price from $12.95 to $18.95 and are all sold at the LCBO, they also receive at least 30 offers from wineries, such as an extra tasting or cheese platter. The goal is to drive consumers to both wine country and the LCBO, and Dawson adds she'll be pleased if they get 25,000 new registers.
The truck will travel to places near wine country, such as Collingwood, London, Kitchener, Toronto and Barrie, and people can follow it on Twitter with #Followthetruck. The council is promoting the activations by reaching out to its existing database, through social media, PR releases when the truck arrives in town, tapping into the food truck culture network and a radio co-promotion for its Ottawa event this weekend. But generating organic interest is important as well, Dawson notes.
"We're not feeling as much pressure to make it a destination, but we are trying to make the experience as good as possible. So where we can promote it, great, but where we can surprise, even better."
Wine Country Ontario has activated at food and wine shows in the past, but this tour is a new program.
"There's not a lot of value in having a truck and parking it," she explains. "There's a lot of value in having the truck and getting it out on the road and touring."

Spanish brand plants local roots

Newcomer to Canada Radio Boka recently began to rollout on shelves (with distribution kicking off in Manitoba 18 months, Ontario in May, and now retailing in Saskatchewan, various supermarkets in Alberta and many privatized stores in B.C.). In Ontario, the Spanish wine has been listed in 150 stores, with the expectation to grow to 200-300 within the next four to six weeks, says Andrew von Teichman, Von Terra founder and import agent for Radio Boka in the province.

The brand recently held an influencer event in Toronto and has been reaching out to wine media, with the Siren Group handling PR, while its sales team is visiting LCBO locations to try to secure distribution. In one Toronto store, it was named the staff pick, which led to 12 cases selling out in five days.

Radio Boka's first in-store initiative is slated for July/August and offers consumers bonus Air Miles on their purchase. In November, it plans to leverage a $1-off promotion, shelf extenders to place the wine in a different section, as well as a bracelet gift with purchase, to be attached to the bottle. Currently in development, von Teichman says it will be in the trendy leather or rope-like material style, helping the brand reach its millennial target.

Honing in on the 25-to-35 range, Radio Boka aims to depart from the generally traditional Spanish category, where packaging is typically classic or estate-driven for older wineries, von Teichman explains, and opting for a more trendy vibe for the young winery. Staying clear of esoteric wine lingo and trying to remain casual, the label calls out music through the wine's title, with "radio" deemed a word easy to pronounce all around the world, according to the brand.

Radio Boka also aims to tap into the increasing popularity of Spanish wines (the category is up 8%, according to the brand). Von Teichman attributes this to the recent popularity of Spain as a tourist destination coupled with how the value of Spanish wine has never been better, as pricing is aggressive in light of the country's recovery from the recession.

Feature image via Shutterstock; wine truck image via CNW Group/Wine Country Ontario