The new OOH front: Astral Out-of-Home drives campaign success with digital technology and new formats
Astral Out-of-Home takes digital technology to street level with augmented-reality in transit shelters.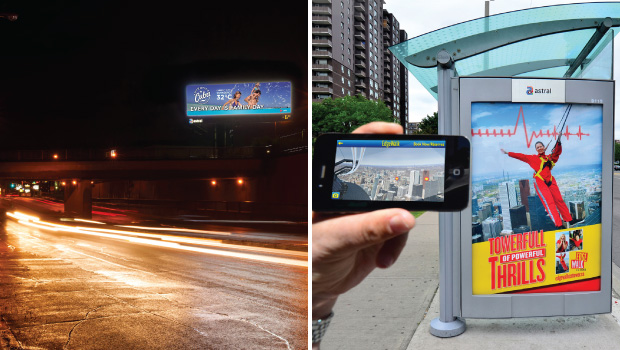 Recent examples of creative use of OOH's tech capabilities include a Cuba Tourism campaign that used Astral's digital boards to compare real time temperatures between Canadian and Cuban cities (to activate the RSS feed, temperatures in Cuba had to be 20 degrees or hotter and Canada had to be 10 degrees or less); augmented reality was used in a campaign created by Astral for the CN Tower Edge Walk which enabled consumers to scan ads to experience a virtual walk around the outside of the tower.


Astral Out-of-Home has been an innovative leader in the industry since first coming onto the scene. The company's dedication to innovation has helped it evolve into it being the first to launch large format digital networks in Toronto, Montreal and Vancouver and this year in Calgary and Edmonton. Recently Astral Out-of-Home, now a division of Bell Media, has taken digital technology to street level and made use of it in transit shelters.
Jordana Fatsis, Astral Out-of-Home's vice-president of sales, says augmented reality is a great example of what digital technology has enabled the company to do for clients such as the CN Tower for the launch of Edge Walk where visitors actually walk outside of the tower.
"They really wanted to move the experience of the Edge Walk to the street so people could get a taste of it and then sign up to do the walk. Scanning the poster with a mobile phone or tablet actually created a compelling augmented reality experience, as if users were standing there and experiencing everything they would if standing outside of the CN Tower. Results far exceeded client expectations. The campaign netted over 400 hours of brand engagement and a lift in sales."
Astral Out-of-Home boasts a stable of over 9500 advertising faces across the country in formats that include vertical and horizontal posters, superboards, transit shelters, street columns and airport properties as well as high-impact mega-columns and digital street level columns. No matter whether clients use digital or standard OOH products, Fatsis says creative innovation is definitely the key to the future of out-of-home with special executions or by using various digital mobile platforms like NFC chips (Near Field Communications) that enable consumers to tap and or scan posters to purchase tickets or get information.
"Flexibility and immediacy are two key advantages of digital," says Fatsis. "You can have different creative every minute or based on time of day or the weather. With an RSS feed, creative can be changed depending on the temperature as we did for Cuba Tourism. As long as there was a 10-degree difference in temperatures in Canada and Cuba, the program would check the weather in both markets every few minutes, confirm the variance and then post the exact temperature in Cuba."
She also points out that digital works well for clients interested in dayparting such as QSR advertisers that want to feature a breakfast menu in morning, then a lunch menu and dinner or snack options. This year Astral Out-of-Home's Carte Blanche winners at Cossette Vancouver created a breakfast sandwich ad for McDonald's that was triggered by the sun rise. In fact, the Carte Blanche contest for creatives, running for the past five years, is another example of the company's commitment to creativity.
Astral Out-of-Home's innovation has gone beyond its investment in digital technology and new formats to include research software tools and services designed to help its clients get the most from their OOH spend, Mark VO (visual optimization) and Mark MO (media optimization). Mark MO uses geo-targeting to maximize an OOH execution using over 6,000 variables, geo-targeting plus psychographics and lifestyle profiles far beyond age and gender.
Fatsis adds, "We find Mark MO provides significant lift in reach versus just doing a general distribution campaign. For a client using traditional posters for several years we wanted to add another element, signature columns, our prestige street-level products. We added 40 faces to the campaign and were able to show them that adding one more element created a 39% lift in overall recall. Clients are asking for these types of tools and how they can use different combinations of products to improve recall, reach and ultimately ROI."
Profiles