Find inspiration in GIFvertising
Netflix France turned the pop culture trend into an innovative media idea.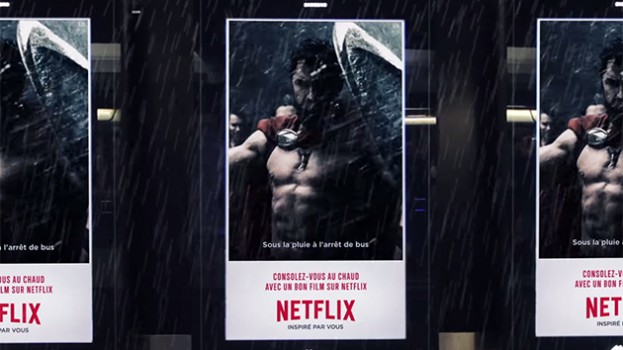 First, it was the meme. Now, it's the GIF's turn to become a walking, talking advertisement for a brand. And while some would probably just incorporate the pop culture trend into a digital billboard, Netflix and Ogilvy Paris went a step further and had them react to contextual events.

For instance, in France where the service has just launched, a GIF of 300's King Leonidas in the rain plays while a person is stuck at a bus shelter, attempting to stay dry while a torrential downpour prevents them from walking home (where they could be cozily watching the movie on Netflix).

There's also GIFs at the mall during a sales period (Walking Dead zombies running en mass) and in subways when France is eliminated from a soccer tournament (Fargo's Jerry Lundegaard slipping on ice). Anyone else wonder if this is the handiwork of a GIF-making specialist? There are guys dedicated to this nowadays after all.