Bringing home the bacon
The Works plays "Six Degrees of K'vin Bacon" and is "Gettin' Piggier With It" in its new pork-heavy promotion.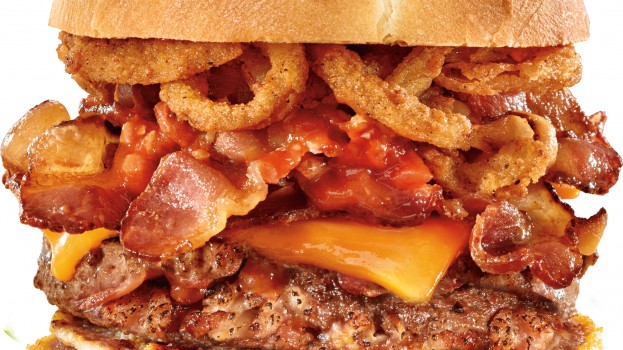 What's better than bacon? Apparently, more bacon.

Oakville, ON-based gourmet burger restaurant The Works (which is best known for its odd array of toppings, such as mac and cheese or pineapple and purple beets)  has launched a five-week campaign around three new limited edition bacon-centric burgers, after last year's "Baconism" promotion proved the most successful limited time offering of the company's history, despite being promoted in-store only.

In 2014, two of the three limited-edition burgers were the top sellers of the year, says Bruce Miller, chief marketing and development officer and co-owner of The Works.

As a follow-up to that push, The Works collaborated with its internal chef and reached out to what Miller says is a very loyal Facebook community to see what bacon-related combinations might prove successful.

Based on responses, the restaurant taste-tested with focus groups and came up with its three new burgers – "Six Degrees of K'vin Bacon," "When Pigs Fly" and "Gettin' Piggier With It." Like last year's promotion, "Baconism II" also features a limited-edition milkshake and appetizer that both feature bacon.

The "Baconism II" ad campaign has expanded upon last year's promotion and includes radio spots running in several Ontario communities where the chain has locations, allowing for a targeted geographic approach, Miller says. Each 30-second spot, produced in house, plays on the name of one of the new burgers and describes the various bacon-related ingredients featured in the items.

The restaurant will also have POP material, including in-store menu inserts and tent cards featuring the three burgers, along with an in-store contest where customers can win a "Bacon-Bash" prize pack.

Apart from gaining more traffic in its restaurants, the campaign is almost meant to build up The Works' brand as an innovator in the burger category, Miller says. It's also about continuing the chain's expansion in Ontario, he notes. "We're always told by our guests that we're the best kept secret in the restaurant industry, and so we're trying to tell more people about it and make it a little less of a secret."

ClearMedia took on media planning and execution for the campaign, while artwork was led by Paquette Design. The Works' AOR, The Siren Group in Toronto, is leading media relations, special events and social media for the campaign.