COS comes to Canada
The H&M-owned brand will be opening stores in prominent shopping areas of Toronto and Montreal.
H&M Group-owned retail brand COS (Collection of Style) is coming to Canada this year, a new competitor in the market for higher-end fashions at a more affordable price point.
The brand will be opening two stores this fall and winter – one in Toronto's Yorkville neighbourhood on Bloor St. and the other on Montreal's Saint Catherine Street West – both major shopping destinations. The Toronto location is set to span three floors at 6,700 square feet, and the Montreal location across 4,200 square feet. "We maintain the same merchandise, store environment and marketing approach around the world, as we truly believe we have a customer with an international mind set," Atul Pathak, COS's head of communication, said in an email. The COS shopper is typically one with a "big city sensibility and a global outlook," he added.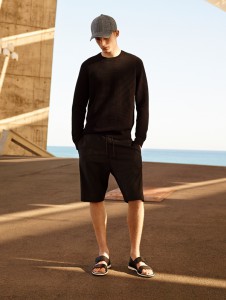 "Our design ethos is all about accessibility and this also relates to our store locations," he said. "We often find that our ideal location is somewhere between the high-end destination shopping streets and the high street stores. For the time being we will focus on these two initial stores but we do believe that there are other areas in both Toronto and Montreal that would suit a COS store."

Launched in London in 2007, the COS brand is around high-end design at an affordable price (dresses can range from $59 to $450).  It currently has 121 stores across 26 countries. Its collections, including women's clothing, menswear and some children's items, are produced by about 60 independent suppliers with 60% of production in Europe and 40% in Asia, according to the brand.

Currently, the brand isn't working with any agencies in Canada. "As a brand that does not undertake any direct advertising, we use the COS magazine and online channels as our primary way of  communicating with our customers," Pathak said. "We love to share a snapshot of what inspires us and also incorporate topics that interest us outside the world of fashion. This often results in us including features that have no direct relationship with COS, yet we find ourselves associating with them and hope that our customers can appreciate them as an organic extension of the brand."

The entrance into the Canadian market comes as other retailers positioned around affordability, such as Smart Set, Jacob and Mexx, have shut their doors. Recently, retailer RW & Co. has aimed to reposition itself as a destination for workwear for both men and women by launching new lines of suits, along with content around alterations and finding the right suit for a customer's lifestyle.