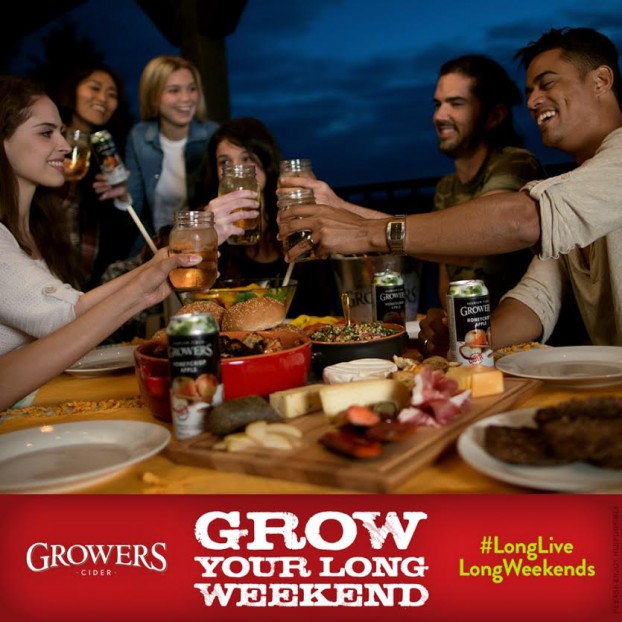 Growers Cider wants to own your weekend. In a new summer campaign, the brand is going after a younger demographic, hoping to make itself the drink of choice for summer weekend activities.
The campaign, led by DenstuBos Vancouver and Isobar, includes OOH on digital boards in Toronto and Vancouver, allowing the brand to change its creative in two-week pushes before each long weekend this summer. Different executions showcase people enjoying different long weekend activities, all featuring the Honeycrisp Apple flavour, which launched in Ontario last year and has been taken nationally this summer. Transit ads in Toronto will also direct consumers to the nearest stores to purchase the drinks.
The brand has also launched a social media push on Facebook and Twitter with the hashtag #LongLiveLongWeekends, through which the brand will repurpose people's shared content at sampling events and on their own social pages. Its digital push includes mass online advertising but also "disruptive" ads on sites like BlogTO and Vancity Buzz for a more targeted approach to reach a younger demographic. It also includes a buy on the Weather Network, since summer weekend plans are typically weather-dependent, says Tehmi Pinto, brand manager for refreshments and spirits at Constellation Brands (formerly Vincor Canada).
"We tried to own something that was really Canadian," she says, referring to consumer research that suggested Canadians love talking about what their plans for summer weekends are. The brand, which is already strong in the cider market, is hoping to drive trial with people from legal drinking age to their early 30s, Pinto says. While it doesn't publicly reveal its core demographic, it does typically skew older than that, she says. However, cider has grown in popularity over the past few years, and targeting younger consumers will help Growers maintain its strength in the category.
Growers also worked with Quadrant Marketing on sampling and experiential programs this summer, which will also feature the Honeycrisp Apple flavour, along with POS materials. Prize packs also will be given away through PR-driven contests through BlogTO and Vancity Buzz.