Metro plays matchmaker
The grocery retailer pairs with bloggers and influencers for its summer campaign, under its "Meant for Each Other" platform.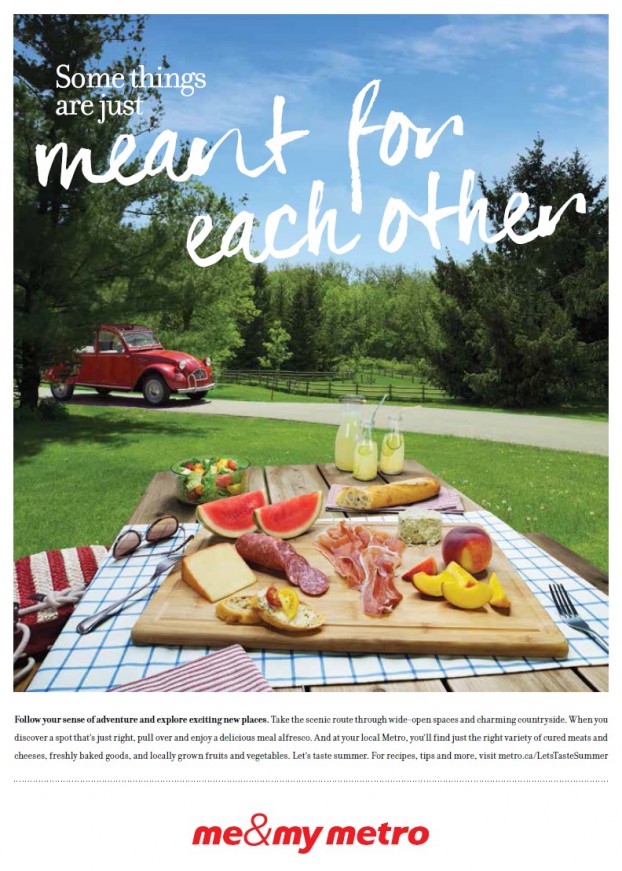 Some things are just meant for each other, whether it's people, places or food, and Metro Ontario is celebrating that idea with its new "Let's Taste Summer" activations.
This year is the first summer campaign that includes the grocery retailer's "Meant for Each Other" brand platform. Along with a mass media push, the grocery retailer has launched two new online video series.
This year, Metro also added one small word to its "Taste Summer" program to get the "meant for each other" message out in a bigger way. Adding "let's" is meant to be more inclusive and is based around food helping to bring people together.
"It's a very, very simple change that we made but we felt that it was a more inclusive statement that better promoted our new brand platform and reinforced that Metro and our customers are meant for each other," says Nancy Modrcin, senior director, marketing at Metro.
Along with traditional media pushes, Metro has partnered with the "Sweet Potato Chronicles" food blog on a YouTube video series called "Unexpected Pairings." Tied with the theme of "meant for each other," the videos feature recipes that may not typically go together (like fish tacos and strawberry salsa).
A second video series called "My Food Story" follows various Toronto-based influencers as they shop in Metro and make their favourite meals at home.
The "Meant for Each Other" platform also includes print ads in Chatelaine and Flare, along with rich media ads linking to its online video content on various Rogers Media properties. The videos will also run on Metro's Facebook and YouTube pages.
Metro worked with Toronto-based Arts & Communications on its PR, experiential and video content and with Publicis for its print campaign.
The spring and summer content initiatives aren't entirely new for Metro, which began partnering more with influencers about a year ago, Modrcin says.
This past February, Metro also announced a content partnership with Flare, a six-issue series beginning in May featuring food columns that pair together fashion influencers and foodies. In March, it also launched a marketing campaign with Chatelaine called "The Kitchen Apprentice" which included content from food blogger Louisa Clements.
A series of radio ads, launched in the spring, will also run all summer, and into fall and the holiday season, all with the "Meant for Each Other" theme, seasonal messaging and a focus on value pricing.
The focus of the campaign has been to familiarize more Ontarians with Metro. Unlike Quebec, where Metro has a strong legacy, in Ontario, the brand is still relatively new and needs to be built, Modrcin says.
While Metro is focused on its core shoppers – typically women between 35 and 55 – some other elements of its spring and summer marketing have been aimed at a younger demographic.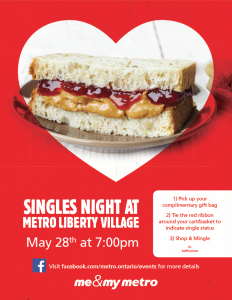 In late May, the retailer held two customer appreciation events at its Liberty Village location, which tied into the theme of bringing people together.
First came a "Single's Night" in late May hosted by romance and relationship writer Jen Kirsch, where customers could tie a red ribbon on their shopping baskets to indicate their single status. Then in June, the store converted its parking lot to a drive-in cinema to screen Willy Wonka and the Chocolate Factory. More than 250 people attended the screening.
Along with adding an experiential element to its summer campaign, the events were also meant to show appreciation for customers' patience during the store's extensive renovations.
Those changes were part of an overall strategy for Metro's locations in Toronto, which are being converted to urban formats.
More of its Toronto stores will soon look and feel like its Humber Bay Park urban format location (pictured, right), which has an atmosphere that Modrcin describes as modern, but warm.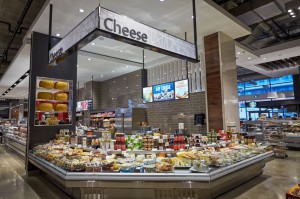 In store, the retailer is also investing in expanding product selection based on what's popular in certain communities. Its renovated Humber Bay Park store for example, includes a fine cheese selection that was expanded by hundreds of SKUs to appeal to its young professional shoppers.

"We were very conscious of the fact that customers shop very differently when they live in urban areas versus suburban areas," she says.

Along with updated aesthetics, the urban locations have a more streamlined product assortment meant to appeal to people who walk to the store and do smaller shops more frequently.