Check it out: The craft behind the beer ad
Ontario Craft Brewers use time-lapse to show off the industry's artistry.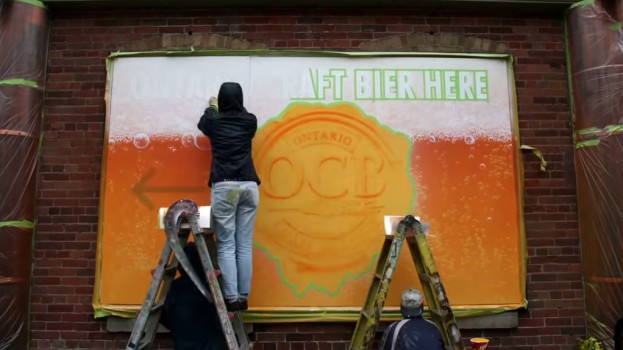 If you've walk by a mural outside the Bier Markt on Toronto's Esplanade, take note of how it was created.

The Ontario Craft Brewers and Brandfire Marketing Group have created a time-lapse video showing the creation of a hand-painted mural outside the bar and restaurant (set to some saloon-style music, of course).

Local artist William Lazos and his team created the one-of-a-kind mural on space donated by the Bier Markt.

"Quality, care and an eye to detail is what the OCB seal ultimately represents," Cam Heaps, co-founder of Steam Whistle Brewery and chair of the Ontario Craft Brewers, said in a press release. "Creativity plays a key role in the brewing process and we all feel proud to continue to represent the brewers that do the work through passion, patience and time – much like the artists that created something special."

The video, running on YouTube and social media, ends with a shot of Ontario craft brewery representatives from Amsterdam, Great Lakes, MacLean's, Mill Street and Muskoka.

In June, the Ontario Craft Brewers also teamed up with Fifth Story to create a video showcasing the people who make the beer in the popular and growing segment.

Also last month, NLogic reported that 40% of craft brew drinkers are men between 25 and 49 and that Quebec City residents are the most avid craft beer consumers in Canada.